Profiteers feed off iPad 2 shortages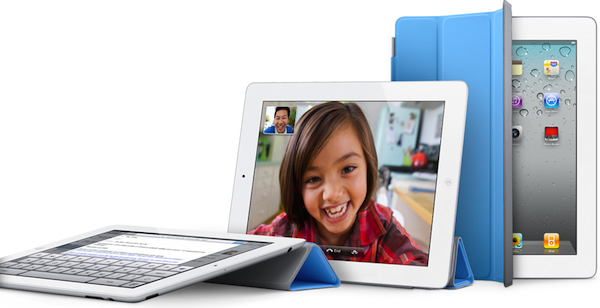 Apple's second-generation tablet is pretty much sold out
everywhere
. If you want one, good luck trying. Shortages are sure to intensify demand, and crazy buying behavior. It's a psychology-of-buying thing, like customers running on the bank to get out their cash. People afraid they
won't
get iPad 2. The next couple of weeks are going to be ugly, as desperate masses fight to get Apple's tablet, further feeding hype and desperation, further pumping up demand (and prices).
The iPad 2 aftermarket is already in motion, as resale parasites -- looking to profit from shortages -- sell iPad 2s they snatched up before genuine buyers could get them from Apple stores. There's hot trade on eBay today, with the 32GB WiFi white iPad 2 selling in the mid $700s. The profiters are interested in more than Americans who couldn't get iPad 2 over the launch weekend. They're looking to profit from sales to international markets where iPad 2 isn't yet available but where there is demand.
Take a look at eBay for starters. Several iPad 2 auctions ended while I was writing this post. Some profiteers aren't making off with much, even while buyers pay ridiculous premiums; others are making a killing. One auction, for a brand new 32GB white iPad 2 (WiFi-only), closed at $760 with 11 bids. The tablet sells for $599 new. The seller is in Chicago, which has 10.25 percent sales tax. After tax and shipping, the seller will make about $84. The buyer paid $161 over Apple's selling price, before shipping and not including tax saved.
In another auction, with 37 bids, a 64GB black iPad 2 (WiFi-only) sold for $890, or $191 over Apple's asking price -- $226 when adding shipping. The seller is in Reston, Va., where sales tax is 5 percent, which is pennies short of what he asked for shipping. So the seller netted $191. That's not too shabby a profit. In another auction, with 13 bids, a 16GB white iPad 2 (WiFi-only) sold for $705 -- $206 over Apple's selling price. Another 32GB white iPad sold for $775. Generally, that model is consistently selling for the mid-$700s. I could go on, but the point is clear: There's a big and profitable aftermarket for new iPad 2s. By the way, I think buyers paying these premium prices are nuts.
But the profiteers don't stop there. Yesterday, at Chip Chick, Helena Stone posted "Here's Why There Are No iPad 2's in Stock." She wrote about a Russian gentlemen buying iPad 2s on launch day -- March 11 -- in New York City:
His tale of iPad 2 riches started at 6am on Friday, which is when he says he started waiting in line for the iPad 2. He explained that he had a total of 'seven friends' waiting with him in line at the Apple flagship store, who each purchased iPad 2s (specifically 3G AT&T iPad 2s) for him. Hmmmm, so 8 x 2 = 16 iPads. He also said that afterward he waited in line to buy a second round. He then came back a third time with a disguise on (a baseball cap and glasses), and purchased a third round, and paid a guy in front of him in line $200 to get him another. Apparently he made all of his purchases from the flagship store. By the time he was ready to go for a 4th round, there were no 3G AT&T iPad 2s left at any of the Apple NYC retail stores. So what to do? He told us he'll be driving up north come March 25th for the Canadian launch to do the same thing all over again.
This buyer specifically wanted AT&T 3G iPads, for resale overseas. The tablets are unlocked and support globally-available GSM frequencies. By comparison, Verizon iPads are largely bricks when used outside the United States.
By the way, this difference might also explain why Verizon iPhones aren't selling as well as expected. C`mon, if Verizon had sold, say, 1 million iPhones, Apple would have blasted out a press release by now. The difference may be the networks. Profiteers can buy AT&T iPhones and sell them for huge profits -- more than enough to pay the early-termination fee, even $325. On Friday, when tidying up some business at the local AT&T store, I discovered that my account had been flagged as a "gamer." I bought an iPhone 4 in June, sold in December and cancelled my account, paying the early termination. AT&T figures that I must be someone gaming the system, because I sold the smartphone after six months (to switch to Google Nexus S).
But people like this Russian guy or iPad 2 eBay sellers are the real gamers. I won't start a philosophical debate about the merits of free-market behavior. But I will say that these profiteers robbed Apple, AT&T and Verizon of legitimate customers -- people who genuinely wanted to buy iPad 2 and couldn't get it.
Today, Piper Jaffray analyst Gene Munster issued a report indicating that, based on store checks, Apple sold out its entire stock of iPad 2s over the weekend -- 70 percent were to new buyers. I'm not surprised. Yesterday I called five Apple stores -- Ann Arbor, Mich., Bethesda, Md., Denver, Colo., San Diego, Calif., and South Portland, Maine -- and all were sold out of iPad 2. I tried to call other stores today, but ran into long queues. But after a short wait, I got through to Apple Store San Francisco, where an employee said no iPad 2s would be available today. Select stores, including this one, will open at 9 a.m. tomorrow to sell iPad 2, assuming there is a new shipment. I've got to wonder: How many resale profiteers will be among the buyers lining up?