Google just doesn't 'get it'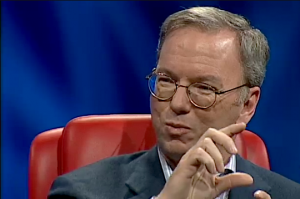 Contrary to testimony given before the US Senate yesterday, Google has not learned lessons from Microsoft's antitrust case -- not enough of them, or the right ones. More importantly, Google is looking at the wrong company. It is Intel's dealing with the Feds that could help Google navigate the shark-infested regulatory waters before it.
If the company fails to respond, and quickly, regulators will step in. Google can only avoid being eaten by way of contrition and compromise, and Executive Chairman Eric Schmidt didn't signal enough of either during his prepared statement or responding to questions that followed.
Schmidt started out right, referring to Microsoft unnamed:
Twenty years ago, a large technology firm was setting the world on fire. Its software was on nearly every computer. Its name was synonymous with innovation. But that company lost sight of what mattered. Then Washington stepped in. I was an executive at Sun and later Novell at the time. And in the years since, many of us in Silicon Valley have absorbed the lessons of that era. So I'm here today carrying a long history in the technology business and a very short message about our company: We get it. By that I mean that we get the lessons of our corporate predecessors.
The reference to Novel and Sun is significant. Both companies filed cases against Microsoft, and it was Sun complaints that set off major antitrust investigations on two continents. Sun was first-mover in Microsoft's landmark US case. From Sun, to Novel, to Google, Schmidt had a front-row seat watching Microsoft's rise, competing against the company and watching its arrogant downfall before the US legal system. Microsoft wasn't contrite and took a no-compromise approach in its dealing with the government. I had a front-row seat, too, reporting on the US cases from 1997.
Defiant Microsoft
US trustbusters sought compromise. There were settlement talks at many junctures, even right before the Justice Department and (initially) 20 states filed the big case in May 1998. Microsoft wouldn't give ground. Then-Microsoft CEO Bill Gates was arrogant, and unwilling to bow before the government overlords. He took his lessons from a different monopolist. IBM battled the government in 40 antitrust investigations over two decades, losing but one case.
Gates sat where Schmidt did yesterday -- in March 1998, just two months before the big case was filed. He was neither contrite or willing to compromise -- or to make changes that would quell the political winds on Capitol Hill. Politicians are publicity hounds, looking to at least appear to be doing the right thing for the constituents. Big senators wanted something from Microsoft, and many of the 20 state attorneys general had political ambitions. Richard Blumenthal is example, as he was Connecticut attorney general and one of the major players in Microsoft's antitrust case. Now he is a democratic senator for the state.
In watching Schmidt testify yesterday, I was washed over by waves of déjà vu. It could have been Gates sitting in that chair. Schmidt spoke of learning lessons, but exhibited none of them in the questioning that followed. Herb Kohl, D-WI, probed Schmidt and other witnesses about monopoly -- whether Google was one and how dangerous. Mike Lee, R-UT, clearly had decided that Google is a monopoly and a dangerous one. His questions were searing, as were his comments. At one point he accused Google of cooking search results in its own favor.
Blumenthal repeatedly looked for compromise, from Schmidt and in the advice of witnesses that followed. He clearly leaned towards Google's dominance being anticompetitive but sought voluntary changes rather than imposed ones. In statements made following the hearing, Lee also encouraged Google to make voluntary changes, too.
Defiant Google
Schmidt would have none of it, like Gates before him. What irony! That one of Microsoft's opponents on the monopoly front would stand before senators asking him about being a monopolist.
Blumenthal was clear about the problem: "You run the racetrack, you own the racetrack -- and for a long time you had no horses. Now, you have horses, and you have control over where the horses are placed, and you're horses seem to be winning". The senator asked Schmidt if he could propose changes to "avoid government regulation". Schmidt's response: Google was already doing as much as it could, a stance he held to even as Blumenthal pressed further for some concession, or even contrition.
The horse race analogy could easily apply to Microsoft, which started out making development tools and operating systems and then moved into applications, thus competing with its software developers and wooing them away from competing platforms. Many of the questions reminded of competitive concerns about Microsoft's monopoly, such as shutting startups out or bullying smaller companies.
Perhaps we all misinterpreted Schmidt's "We get it", because the lesson I heard in his responses was defiance -- like Microsoft in the 1990s. He should look to Intel instead. By every measure, Intel has a monopoly, too. For more than a decade Intel fought off the government antitrust overlords through compromise and contrition. Antitrust complaints have dogged the chip maker since the 1990s, resulting in several investigations. Along the way, Intel appeased antitrust investigators.
Of course, contrition and compromise can only go so far. Intel eventually, and only recently, got slapped around by the European Competition Commission and Federal Trade Commission for monopoly abuse. But its willingness to bow before government overloads -- or at least to appear such -- provided a get-out-of-jail card for more than a decade. Schmidt and CEO Larry Page would be wise to look to Intel and not Microsoft, before the FTC cracks the antitrust whip and forces Google to kneel before it. There's a difference between bowing politely and being forced to the ground.