'Kids are growing up Apple'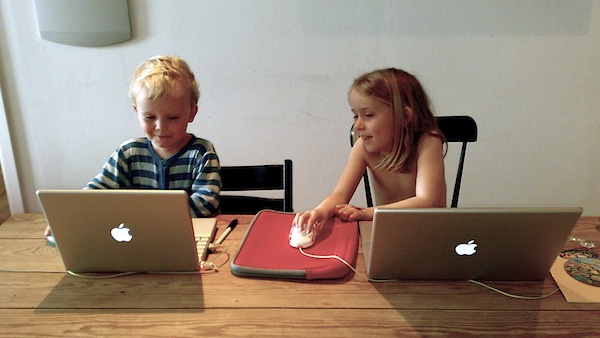 If you don't own an Apple product, look again. One out of three American households does, and it could be yours. "Kids are growing up Apple. That brand equity goes very far", Ben Arnold, NPD's director of industry analysis, tells BetaNews. Arnold's comments confirm a story I penned last year on the strength of Apple brand's in the youth market. "We definitely saw that [in our research]".
Arnold concedes that while younger consumers drive much of Apple's newfound retail success, their loyalties are fickle. "In five or 10 years someone else could come along". But he pointed to his and other research showing that Apple's brand gets high marks with the youth market, and that brand loyalty will likely extend to any new products that Apple may decide to sell.
Then there is Apple brand exposure outside the home. For example, Apple revealed this week that the San Diego school district bought 10,000 iPads during Q1 and will purchase 15,000 more this quarter. With computing products, there's more than brand exposure -- locking younger users into applications and ways of doing things and using the same stuff as their friends.
"Apple is really good at attracting people into their ecosystem", Arnold argues.
Dominating the Tablet Sector
iPad is its own Apple brand driver, poised to disrupt established PC brands. About one out of every four iPad purchasers are new to Apple, and the tablet is starting to displace the iPod as the so-called "halo" device, based on NPD's research.
Historically the iPod has served as the first Apple device for consumers, but Arnold notes a shift within the last two years. Just 57 percent now say the iPod was their first Apple product, with 21 percent saying it was the iPhone, and 13 percent the iPad. He believes that Apple is setting itself up for long-term success and a perpetual dominant position in that market.
"iPad sales are growing much faster than any other Apple product has this soon after launch. This demonstrates the appeal of both the new form factor and Apple's app ecosystem", he tells BetaNews. "It is possible that the iPad could be to tablets what Windows was for PCs".
The analogy is not perfect of course. Microsoft merely produced the software and not the hardware, whereas Apple controls both the hardware and software with the iPad. That said, Microsoft made moves to cement its dominance in the PC sector and Apple is doing the same with tablets. This success could vanish quickly if Apple fails to respond to market pressures.
"Steve Jobs expressed some resistance to a different screen sizes. Our research shows, however, that a slightly smaller form factor would have some appeal", Arnold says. If Apple does not respond to the desire shown by consumers through the success of smaller tablets akin to the Kindle Fire, it does risk losing the dominant position the company now enjoys, he believes.
NPD's own research shows that Apple controls nearly a quarter of the mobile PC business as of the last quarter of 2011, chiefly due to the success of the iPad itself. Its closest competitor is HP at 10 percent, who attempted to enter the tablet sector with WebOS and TouchPad last year, but exited just as quickly.
Apple is Just Fine Without Steve Jobs
Even with the success of the iPad, Apple has a hard time escaping the shadow of Steve Jobs. Forrester Research CEO George Colony equated Apple with Sony, saying the loss of Jobs will likely set the company into a period of decline, and that Apple's business model requires a "charismatic" leader. My colleague Joe Wilcox just a day before wrote exactly the opposite, arguing new CEO Tim Cook's strengths as a process man position Apple well.
Arnold seems to agree with Joe's reasoning. "Steve did a great job of setting up this company for the next phase. Apple has built up a base that will carry them through", he argues, saying that Jobs' presence will be felt in the company's products and software for years to come. Simply put, "Apple's products sell themselves".
Even saying that, Arnold passed on speculating further on Apple post-Jobs, or on Cook's performance as a leader just yet. "All of this stuff is really behind the curtain of secrecy," he mused, noting how little we really know of what goes on inside Apple. "It's the biggest question of us analysts, investors -- how does Apple navigate this next phase".
Photo Credit: Mads Boedker