Save big on these May software bargains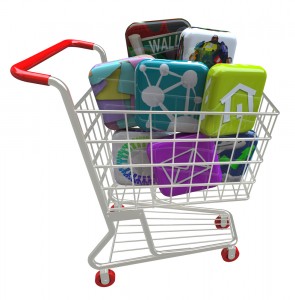 We're nearly halfway through May, the weather's getting warmer and there is a bunch of deals in the Downloadcrew Software Store if you're looking to save on your purchases. Starting off this month's selection of offers is a series of deals on TuneUp Utilities 2012 that includes everything you need to optimize, fix or customize your computer.
TuneUp Utilities 2012, complete with a 3-PC, lifetime non-expiring license can be yours for just $18.99, saving you 62 percent, while anyone who needs more licenses should take a look at TuneUp Utilities Business Edition 2012 [5-PC, lifetime license] which costs just $22.95 – saving of 73 percent. Looking to secure your PC as well as speed it up? Look no further than the TuneUp Utilities 2012 + AVG Internet Security 2012 bundle which costs just $22.95 (a saving of 80 percent) and the TuneUp Utilities 2012 + avast! Pro Antivirus 7 bundle which at just $19.95 will save you an impressive 78 percent off the MSRP.
There are plenty of utilities to be found in the store that can be used to help improve the performance of your computer, including IObit Advanced SystemCare 5 PRO [3-PC]. This all-in-one system maintenance tool usually costs $39.95, but you could save 70 percent when you buy it for $11.95. Want to take care of your hard drive?Auslogics Disk Defrag Pro 4 is a half price bargain at just $14.95, which ensures that your drives are kept running at peak performance. Another great performance boosting tool is Auslogics BoostSpeed 5. A 70-percent reduction in price means this program can be yours for just $14.95 and you can use it to easily take care of your registry, hard drive, system settings and more.
May also sees plenty of deals for anyone who would like to use their computer for creative ventures. You can save 30 percent off the regular price of CyberLink PowerDirector 10 Ultra when you buy it for just $69.95, and this immensely powerful suite includes everything you need to create your own stunning videos. In addition to saving $30, you will also receive $69 worth of complementary software. The previous version of PowerDirector, PowerDirector 9 Ultra64 is still available and can be snapped up for the bargain price of just $29.95  saving your 70 percent off the MSRP of $99.95.
When you have created a video project, or have other files you want to share, you can burn them to disc using Roxio Creator 2012, which is available to buy for 50% of the MSRP for just $49.99. If you are a little more demanding, upi can also save 50 percent off Roxio Creator 2012 Pro which includes extra audio tracks and video effects, and is availbale for just $64.99. If you feel as though you can live without all of the latest and greatest features, you can make a colossal saving by buying the previous version of the program. Roxio Creator 2011 is available for a staggering $19.99 which represents a massive 80 percent saving off the MSRP. If you want to make a saving, but still want to be able to work with high definition Blu-ray discs, look no further than Roxio Creator 2011 Pro -- and you can save 81% off the MSRP when you buy for just $24.99.
The store features a number of great security tools including Webroot Internet Security Essentials 2011. This includes a firewall, antivirus protection and spyware detection, can be installed n three computer and is available for just $4.95 -- a saving of 92 percent off the MSRP. You can get the option of a free upgrade to SecureAnywhere 2012! From the same company comesWebroot Internet Security Essentials 2011 [5-PC], which can be installed on up to five computers and costs just $6.95 instead of $89.95.
Other handy utilities to be found in the store include two great backup tools.Acronis True Image 2012 is available for just $29.99 (a saving of 40 percent), while an even greater saving of 50% can be made on Genie Timeline Professional 2012 which can be bought for just $29.95 instead of $59.95.
Of course, this is just a selection of some of the great offers you can find in the store. To take a look at the full range of what's available, head on over to the Downloadcrew Software Store.
Photo Credit: iQoncept/Shutterstock