Get ready for Commerce-as-a-Service: NetSuite takes selling to the cloud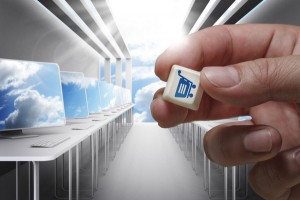 You've heard of Platform-as-a-Service, and Infrastructure-as-a-Service; maybe even Gaming-as-a-Service, too, from BetaNews' reporting on Tuesday. Get ready for the latest X-as-a-Service, thanks to a new Commerce-as-a-Service (CaaS) initiative from NetSuite.
The company debuted the initiative on Wednesday, saying CaaS will help partners manage both business-to-business and business-to-consumer transactions regardless of device.
CaaS uses NetSuite's Enterprise Resource Planning as its backbone, built upon a new platform called SuiteCommerce. SuiteCommerce manages all aspects of the sales process from developing the e-commerce site itself to process management. The platform can even run the POS systems in retail stores themselves, which may explain why the company on Wednesday also announced a partnership with payment processing company Square.
"Over the next decade, NetSuite will transform how businesses operate with other businesses and with their customers through NetSuite Commerce as a Service", CEO Zach Nelson says. "By transforming the NetSuite business application into a commerce-aware platform, we enable our customers to extend the richest set of cloud operational capabilities available anywhere directly to their customers, regardless of the device those customers are using".
The rapid rise of e-commerce has caused a disconnect between a company's online and offline presence. Backend applications like SAP and Microsoft Dynamics are cobbled together with e-commerce software. This makes a mess of the supply chain, and the path from supplier to retailer to customer has rarely been a straight one. Obviously, this leads to inefficiency.
SuiteCommerce, and its comprehensive take on all aspects of commerce management, is marketed as a solution to the issue. Connecting to the ERP NetSuite's backend, the process becomes streamlined, and the need for human CRM (client relations management) is significantly lessened. "The human as a CRM system is going to be a thing of the past" thanks to tools like SuiteCommerce and others, Nelson said Tuesday at the SuiteWorld 2012 conference in San Francisco.
Photo Credit: nokhoog_buchachon/Shutterstock