Web Page Saver lives up to its name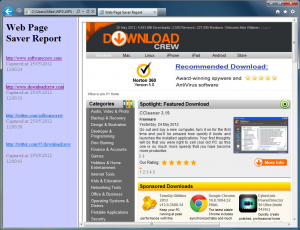 A couple of weeks ago we wrote about wpic, a console tool that could easily save a complete webpage as an image. But while this works well, it seemed a little basic, and is probably best used within scripts if you needed to automate the saving process. If you were also interested in the core idea, but wished wpic had more features, though, Web Page Saver might appeal: it can also save webpages for you, but takes the idea to the next level.
The program's simple GUI allows you to enter up to five URLs, for instance, which can then all be saved in the same operation. (You need to enter the protocol, though -- http://my.domain.com, not just my.domain.com -- for this to work properly.) And it can also import URLs from text or CSV files, which may be handy if you often need to capture the same groups of sites.
Click Options and you'll find there's a good choice of output formats: you're able to save your specified pages to JPG, PNG, BMP, TIF and even PDF files.
Conveniently, Web Page Saver creates an HTML report which makes it easy to review everything you've done. Your specified URLs are on the left-hand pane, and clicking any of these will display the site image or PDF file on the right.
And this report can even be customised with your choice of logo and report title, which could be handy for business use. If you point Web Page Saver at a few of your company's competitors, say, then you could give the report a sensible title, your company logo, and it's immediately ready to zip up and share with your colleagues.
It's not all good news. The interface has some usability irritations -- you enter the URLs in a separate dialog to the main interface, for instance, then can't see what those addresses are unless you go back to it – and looks horribly basic.
Web Page Saver does work well, though, and if you sometimes need to capture and review images of multiple web pages then the program could be very useful.