Don't let that software agreement be a devil's deal, try EULAlyzer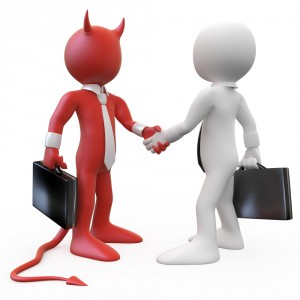 You've downloaded an interesting new application, and you're eager to try it out. So it's hardly a surprise if, when you're presented with a lengthy and complex licence agreement, you'll just choose the "Agree" option without even reading it.
Ignoring the EULA does mean you're missing out on some potentially interesting information, though, as a program's agreement could reveal how installing it might result in you receiving targeted advertising, spam, or having personal information shared with third parties. Of course you'll need to pick out these more interesting clauses from the background noise, but if you find that a problem then you can always get a little help from BrightFort's EULAlyzer.
The program is simple enough to use. Just have it running when your installation starts, then drag and drop the target icon onto the EULA window when it appears to grab the text, and click Analyze to review the results.
Sometimes this results in, well, nothing at all: EULAlyzer will explain that it didn't find any interesting words of phrases in the EULA, and therefore it's probably safe. In our tests this was generally correct, too, and in real life would have saved us a little time.
When the program does find clauses it thinks you need to know about, though, they'll be displayed in the Results window, and organised into categories like "Advertising", "Promotional Messages", "Third Party" and so on. So if you're worried about being sent spam, say, you might expand the "Promotional Messages" section. The program will then display a few words of any relevant clause it's found, and in a click you can jump straight to that section in the full EULA, to read it in context.
While this sounds reasonable, the actual analysis being performed here is little more than searching for and highlighting a few key words in the text. When we provided the program with one sample EULA, for instance, it added a reference including the word "advertisements" to the "Advertising" section. Did this mean we were agreeing to be bombarded with targeted ads? Not at all: this was a clause saying that we weren't allowed to use this particular service to send ads, chain letters or spam, all perfectly fair.
And the other problem here is that EULAlyzer scans for a lot of words, which may leave you with a great deal of reading. In one case the Results window presented us with 33 clauses to check, most of which were harmless: it would have been quicker and easier to simply speed-read the original EULA ourselves, without looking for any third-party assistance.
None of this should be a great surprise. EULAs are difficult to understand, perhaps intentionally in some cases: if someone were to develop a program intelligent enough to fully understand what they're saying then they wouldn't be giving it away for free.
And, to be fair, we found EULAlyzer was useful sometimes, if only in pointing out which programs didn't have any dubious clauses in their licence agreements.
For the most part, though, the program just added complexity to a process which is already difficult enough. And so, if you're worried about what you're installing, the best advice remains the same as it always has: you should read the EULA yourself. Even if you just do what the program is doing, skim the text just looking for a few key words, you'll still pick up interesting points occasionally, and it's certainly better than simply agreeing to a EULA without reading it at all.
Photo Credit: Texelart/Shutterstock