Opera 12 is available -- get it now!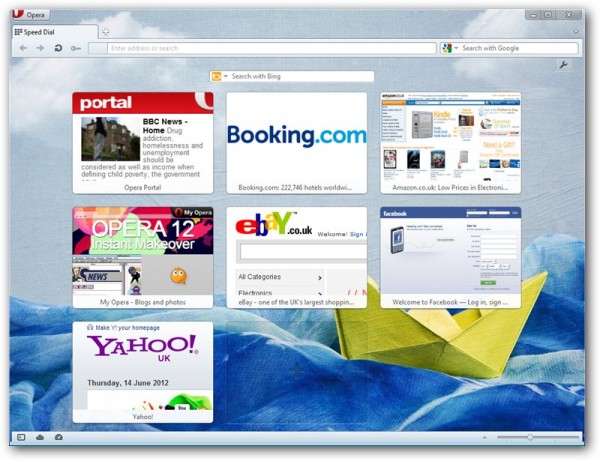 Norwegian browser developer Opera Software ASA has released Opera 12 32-bit and Opera 12 64-bit for Windows, Mac and Linux.
Version 12 of the cult web browser, which is a major player in Eastern European markets, but enjoys more cult status worldwide with around 4 percent market share, introduces several major new features, including theme support and the ability to directly access the user's web camera from the browser.
Opera 12 adds the ability for compliant websites to directly access the user's webcam. Although not yet widely supported, a number of examples -- a photo booth and Facekat game -- are supplied by way of example. The idea is to prevent users from having to use a third-party application to access the webcam for browser-related activities such as updating a profile picture.
The latest version also introduces theme support, allowing users to customize their browser window with a lightweight skin. These are accessible from the Opera > Appearance menu, and can be installed and switched between without having to restart the browser.
Version 12 also makes security settings more visible by utilising colour-coded badges in the Address bar to help review a site's privacy and security settings. There are improvements to the Address Field, including improved drop-down suggestions and smart URL shortening.
Opera 12 also promises improved performance, utilising experimental hardware acceleration and WebGL support (the feature is disabled by default -- switch it on following the advice at the Opera blog), claiming better website loading times and faster startup when many tabs are involved. It also introduces a dedicated 64-bit build for Windows and Mac users for the first time. Web standards support -- particularly HTML5 and CSS3 -- has also been updated.
Program stability has also been improved by running all plug-ins as separate processes, allowing the user to shut down misbehaving plug-ins without having to close Opera itself. In return extensions can now interact with tabs and manage both tab groups and windows.
One of the downsides of the latest update is the fact that many of these latter improvements merely ape what is already happening with other web browsers, particularly those on a rapid-release cycle like Firefox and Chrome. Sadly it highlights how Opera's reputation as a web pioneer is coming under threat from rival products' ability to roll out major updates more quickly.
Another drawback for some users will be the news that Opera Unite, Opera Widgets and Opera Voice are all being discontinued from version 12 -- the first two are switched off by default (but can still be enabled), while voice support has been removed entirely.
Opera 12 32-bit and Opera 12 64-bit are available as freeware downloads for Windows, Mac and Linux platforms. In addition, Opera Mini 7.0 is available for mobile devices, including iOS, Android and Windows Phone.