Samsung unveils new enterprise-safe Android brand, Galaxy S III first to sport it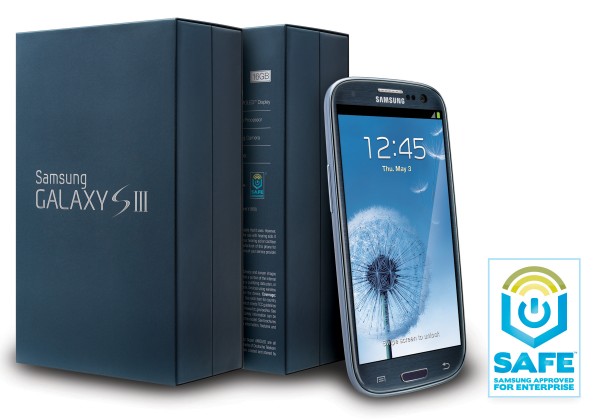 In the world of Android-powered smartphones, Samsung is the reigning king. It sells approximately 40 percent of all the Android smartphones going to consumers today, and Forrester Research predicts proprietary Android builds (such as Samsung's TouchWiz) will actually surpass Google's Android ecosystem within three years. Of course, this fragments the market and causes trouble for developers and enterprises looking to create and deploy software for Android.
Monday, Samsung unveiled a new brand that will be applied only to Android devices that have been approved for enterprise use: SAFE, or "Samsung Approved for Enterprise." It's similar to Motorola's line of Enterprise Android devices called Motorola Business Ready, which debuted earlier this year.
Samsung says it created SAFE as "a way to defragment the Android OS across multiple versions from Gingerbread to Ice Cream Sandwich at U.S. carriers."
The Samsung SAFE brand can only be applied to a single device right now, the Galaxy S III, because of its support for several hundred common IT policies, including on-device AES-256 bit encryption, enhanced support for Microsoft Exchange ActiveSync and support for the most widely-used Virtual Private Network (VPN) and Mobile Device Management (MDM) solutions such as Cisco AnyConnect, Juniper Junos Pulse, SAP Afaria, and MobileIron MyPhone@Work, among others.
Like Motorola, Samsung has also rolled out a trade-in program to encourage businesses to pick up the Galaxy S III, or other future SAFE Android devices by offering up to $300 cash for each device traded in.