What's wrong with Larry Page?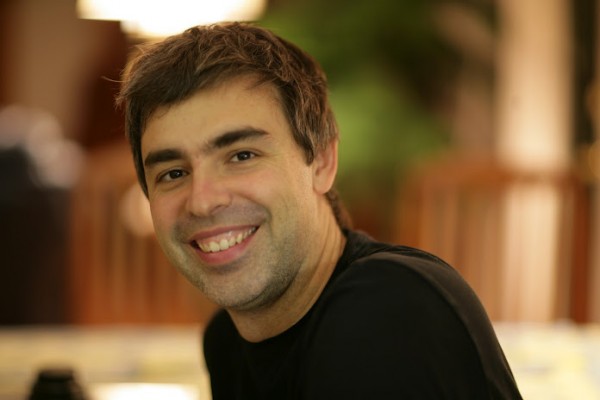 I don't own shares in Google -- or any other company, for that matter (conflict of interest). But were I a shareholder, I'd want to know why Google's CEO missed this week's shareholder meeting and will skip next week's I/O developer conference. Given that Page has only been on the job (his second time as CEO) since April 2011, visibility at big events should be a top priority. His absence already has raised health questions, and Executive Chairman Eric Schmidt isn't helping by giving a health reason (laryngitis) as reason why Page will miss Google I/O.
Google shouldn't pull an Apple and play the privacy card. Apple withheld critical information about then-CEO Steve Jobs' health during crucial junctures. He died, which says much about the severity of his illness and impact on his ability to run Apple. I've long contended shareholders had a right to know. Apple is a public company owned by them. Google is much less since cofounder Sergey Brin, Page and Schmidt are the majority stakeholders. They should be informed, and surely are, if no one else. Nevertheless, Google's shares are publicly traded. If something is up (or down) with Page's health, Google should say so. If he's okay, stop the ill-health rumor stories by publicly saying so.
Lost Voice
The latter is the more important. If Page's health is generally good, Google should issue a brief statement to quell rumors. Apparently, he sent a memo (that I haven't seen) to employees stating "there is nothing seriously wrong with me". Well, is there something not so serious but worrisome. The lost voice excuse that Schmidt gives isn't believable -- not for a CEO of a company like Google. People of Page's caliber are paid to stand up even when they feel so crappy all they want to do is lie down.
During high school, I got laryngitis the day before the drama club performed a big play. My teacher told me to heap Vicks Vapor Rub into a sink filled with steaming water, pull a towel over my head, lean into the mist and breathe. I couldn't say two words without sounding indistinguishable from my grandfather, who had emphysema and walked around with an oxygen tank. There was no cure for my voice, I assured her. But there was. The old teach (well, she was actually young and dreamy) knew her stuff. Next day, I got my voice back, and the show went on, as they say.
But Google I/O will go on without Page, unless he gets his voice back before Wednesday. Can I order you some eucalyptus oil from Amazon, Larry? I've got Prime and could get the order to you by Tuesday afternoon. My teacher knew her voice cures. Or perhaps losing his voice is code for stage freight. Page doesn't exactly strike me as the outgoing type. But we're not friends or anything, so how could I know for sure.
Page publicly posted to Google+ today for the first time in nearly a month. I don't see anything surprising in the distance between posts, since there are likely so many more to limited Circles. Just because we don't see the posts doesn't mean there aren't lots of them. Maybe Page really is convalescing, and he had time to post today.
No Private Matter
When Jobs suddenly took medical leave in January 2009 and again two years later, I stood fast that his health isn't a private matter. Similarly, as leader of a public company, Page has no inherent right to privacy where his ability to act as CEO is concerned. The Securities and Exchange Commission doesn't explicitly require disclosure of executives' health-related issues, but it should.
Presuming that Page might be in ill-health but qualifying there's no indication he is, Google shouldn't hold back like Apple did. Google operates by an "open principles" philosophy that includes transparency reports about different aspects of its business. By that measure, Google has a higher obligation to be transparent about its chief executive than Apple, which corporate culture is all about veils of secrecy.
That said, I feel less strongly about Page disclosing health information than Jobs. Simple reason: Outside shareholders are Apple's major owners. Three insiders, all top executives, have controlling interest in Google. However, in the spirit of transparency Google touts and out of respect for the many shareholders, the company should come clean.
The Echo Chamber
The temptation to keep secrets is understandable. There's presumption that bad news about the CEO's well-being can send the share price falling. But Apple performs better following Jobs' death than before, and he was an icon -- the good taste messiah of tech. Jobs' illness and death posed much greater threat to Apple than any news about Page could pose to Google.
Besides, Schmidt ran the company for a decade before Page resumed the helm. He's the man who is the backup plan. The executive chairman brings confidence that Google will be in good hands. I wouldn't sweat the share price, no matter what the news -- that's assuming there is anything to disclose (I assume not, actually).
At the least, if Page is as healthy as my grandfather's prized hog, just say so. Squelch the rumors and speculation. Silence allows the echo chamber of blogs and news sites to fill the quiet with noise. The link in this post's first paragraph goes to Wall Street Journal story "What's ailing Google's chief?" (Damnit, I saw this one after picking the similar headline to this story. I'm too attached to change it.) The Journal will be copied everywhere by Monday. Without Google's response, the echo chamber will resound with crazy stories and by the time I/O starts on Wednesday you'll think Page might soon join Jobs.
Perhaps Page is just too busy to attend both events, or he's working on some all-consuming skunk works project Google wants to keep secret. Maybe there is some family crisis, like someone seriously sick. There are lots of reasons why Page is MIA, and none have to do with his health. Perhaps if not for Jobs, the blog and news site echo chamber wouldn't be so sensitive to the slightest hint of another stricken CEO. It's all the more reason for Google to break the silence.
Photo Source: Larry Page's Google+ profile