What's the next Google Nexus smartphone going to be like?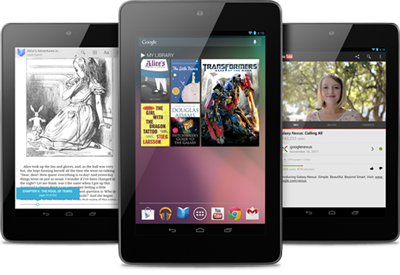 By now, we've all seen the Nexus 7 tablet, Google's first attempt to penetrate the tablet market directly. For $199, the Nexus 7 will be a huge hit among tablet fans worldwide. It will be directly supported by Google, which means updates will actually be released on time. That is a major advantage over any other Android tablet currently on the market, and will remain an advantage over future ones as well. Google is known to deliver a consistent "stock" Android experience, which is what most cutting-edge tech fans love.
But what about the next Google Nexus phone? It's totally overshadowed by the tablet right now, so it's a perfect time to think about what's next for the Nexus brand.
And Google said: let there be power!
If the current trend of Google working with nVidia is anything to go by, the next Google Nexus smartphone will still NOT feature an nVidia chipset. The Tegra 3 chipset doesn't support LTE (As of Friday, June 29, the Fujitsu Arrows X on NTT DoCoMo's Xi network in Japan is actually the first Tegra 3 LTE device), and Google is not likely to risk working with two separate hardware configurations for its flagship phone after the problems that happened with the Nexus One back in 2010.
There's a very good chance that Google will use the Qualcomm Snapdragon S4 as the de facto model, because it comes in both LTE and HSPA+ flavors. Simplicity is what Google favors and this is the best choice they have now, which makes it the most likely candidate. Coincidentally, Qualcomm launched the Snapdragon SDK for Android this week, giving app developers tools to optimize their applications for the platform.
By using a single chipset, Google can eliminate performance and endurance differences as much as possible. The LTE model will feature a higher capacity battery, while the HSPA+ one will have to make do with a smaller one, as is the case now.
LTE and HSPA+ model: Qualcomm Snapdragon chipset with a 1.5Ghz dual-core Krait, Cortex A15 CPU, Wi-Fi a/b/g/n, Adreno 225 video card, 8MP rear camera with 1080p video recording and a 1.3MP front camera with 720p recording. It will have 16/32GB of integrated storage just like the HSPA+ model has now and NFC will be a given as well. It will also feature a 720p resolution on a 4.8" display, most likely a SAMOLED one (PenTile matrix).
2GB of RAM is entirely possible, as more phones will be released with this amount in LTE markets, Samsung and LG are currently the first ones to do this. International models might feature the same amount, but I wouldn't bet on it.
These are my estimates based on current market smartphones and technology available.
Google will use multiple manufacturers
With current and previous models, Google stuck with a single manufacturer, most likely to keep a consistency across the models, but now, rumors are suggesting more than one manufacturer will build the flagship phone. Samsung, HTC and Motorola are the most likely candidates, with others possible as well, such as LG and Sony.
Android 4.1, Jelly Bean to run the show
With every new Nexus smartphone, Google has also introduced a new operating system. Android 4.1 ("Jelly Bean") is the first time the company has launched the new OS on a tablet. Android is a mobile operating system, it is highly unlikely that it wouldn't be launched on a new phone too.