Project Now iOS app generates a soundtrack for your life -- Kind of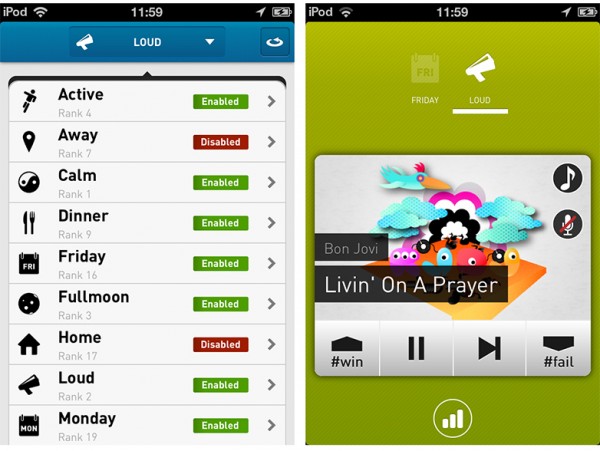 Reality Jockey is responsible for some of iOS's more interesting audio apps, including RjDj, Inception and Dimensions. The London-based developer's latest offering, Project Now, is an ambitious music app that aims to choose the perfect music for every situation you find yourself in. For example, if you're just relaxing at home, it will play a selection of suitable tunes from your music collection. Go to work and it will switch to something more fitting for the business environment. Visit the gym, and you'll hear music to work out to. Cleverly it also mixes in external sounds from your microphone, so you can still hear the world around you when you're out cycling, or in the office.
When you first run the app it will import your music, which will take a while to complete. After then it will attempt to assess your situation, based on the current day, time, location and sounds around you, and find music to match. It can identify 21 different circumstances, including calm, active, asleep, snowy, night out and full moon. Quite why you'd want to listen to different music when the moon is full I'm not sure.
If you don't think a song matches the mood you can tag it as #fail. Perfect matches can be #win. (At least in theory -- after a full day it's still importing my music so won't allow this). You can also pause and skip tracks, and view the ranking of each situation, and access personal music charts.
Although it's pretty good at detecting situations, the app is far from perfect. It's slow, often only plays snippets of songs, and continued use of GPS zaps the battery life so quickly you wonder why "Charging Device" isn't one of the situations on offer.
Most annoyingly of all it requires you to link it to Facebook or Twitter before you can access the settings, which sucks.
Still, it has great potential, and hopefully future updates will fix some of the issues, and add further possible situations. There are no plans for an Android version yet, but Reality Jockey hasn't totally ruled out the idea.