VLC arrives on Android -- but may kill your device or end the world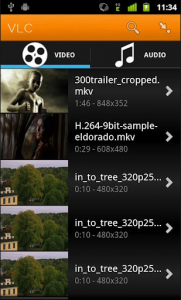 VideoLAN's VLC, the hugely popular open source cross-platform media player, has finally been released for Android. Before you get too excited though, this is a beta version ported from iOS, so will only run on devices with an ARMv7 CPU and NEON. It has a rather basic UI and some performance issues too. In fact, according to VLC, "It might kill your kitten, destroy your house and start the Mayan apocalypse. Use it at your own risk".
If the limitations don't put you off, and you have no qualms about potentially initiating the end of the world, the app offers the ability to play most local audio and video files (stored in its media library or any folders on your device), as well as network streams. It supports auto-rotation, aspect ratio adjustments, volume gestures, multi-track audio and subtitles.
If you do decide to give it a try, let us know how you get on in the comments below.