Qualcomm unleashes the fastest (and most expensive) Android tablet yet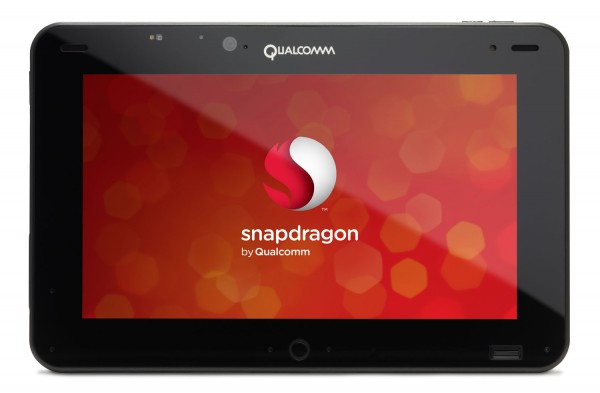 NVidia, Samsung, you can keep your Tegra 3 and Exynos. There's a new champion in the Android world of tablets.
There are people that only settle for the best products, so if you're after the fastest tablet running Android you're in luck: Qualcomm has the answer for you with the Snapdragon S4 Pro Mobile Development Platform (MDP) tablet. So how fast it is? Let's just say that there is no Exynos or Tegra 3 that can keep up with this "evil" creation from Qualcomm.
A quad-core 1.5Ghz Krait CPU powers the tablet, together with 2GB of RAM and the Adreno 320 GPU, making for an incredibly fast system. A 13 megapixel camera with 1080p video recording, meanwhile, runs the show on the back. The tablet comes with Android 4.0.4 out of the box, but a Jelly Bean upgrade is not out of the question.
Currently, the tablet is being labeled as an "MDP," which means that it only targets developers. That should come as no surprise to anyone if we're going to be seeing the Snapdragon S4 Pro chipset in future smartphones and tablets from known manufacturers.
So what should we expect from the Qualcomm chipset? The Snapdragon S4 Pro is targeted at smartphones and tablets, being available as both dual- and quad-core Krait CPUs with an Adreno 320 GPU. 1080p video recording and an up to a 20 megapixel camera is supported. The biggest news comes from 4G LTE support: quad core CPU and LTE wasn't a popular combination due to the lack of support from chipset manufacturers.
So what's the damage? BSQUARE has the tablet on offer for $1,299, which is a rather shocking price for consumers, but Qualcomm is aiming at developers and vendors to buy this tablet, which is only logical considering that it's an MDP tablet.
The dual-core Snapdragon S4 that's available today in the very popular Samsung Galaxy SIII and HTC One X (One XL internationally) when not paired with a battery-hogging LTE radio is an excellent performer in terms of endurance, with the quad-core Snapdragon S4 Pro likely to offer similar performance when it comes to battery life.
Is it the cheapest tablet around? No, but it's the fastest, and its point today is to show manufacturers and platform developers what it's capable of.