Slices for Twitter - best Twitter app today?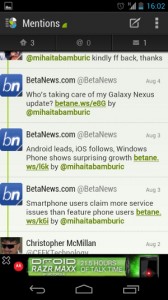 If there is one thing that's typical of Twitter, it's the long, long, long list of tweets that shows each of your Twitter friends' er…tweets. Slices for Twitter by OneLouder Apps is designed to make your Twitter experience better by adding "Twitter Content Discovery." Simply put, it provides improved functionality over the official Twitter app.
Slices for Twitter comes with five major features: Twitter Directory, Live Events, Timeline Slicer, Bookmarks and Mobile-to-Web.
To help keep track of your Twitter friends, Slices for Twitter utilizes Timeline Slicer (good choice of words) which helps categorize Twitter friends into lists. These individual lists are simply the functionality that Facebook and Google+ have already, which Twitter doesn't yet offer on its own.
Live Events is a feature that helps follow live Twitter events. According to OneLouder, the feed comes "from the 'right' people" on daily events ranging from music to sports. You could, for example, follow a live Olympic event through Slices for Twitter and it would give you relevant content.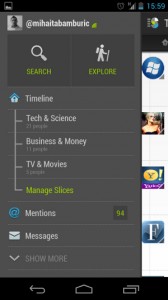 Twitter Directory is another interesting feature available on Slices for Twitter, it provides 21 categories through an "Explore" section. You can browse through trending hashtags, like #Worldwide or #Miami, check Live Events, News or Humor. Basically, it helps find popular information easier.
Bookmark works as you'd expected. You get suggestions from available categories and they will be bookmarked for easier future access, but you can also follow them if you're interested.
To make the Twitter experience seamless, Slices for Twitter automatically synchronizes Slices on your smartphone with the Slices website.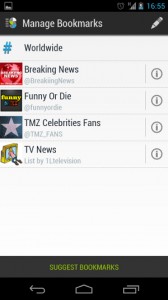 The website isn't open to the public at the moment, but the smartphone apps are available via Google Play for Android 2.2+, App Store for iOS 5.0+ and Amazon's app store, where Android 2.2+ is required as well. The application is free of charge on all listed application stores, but if you don't want ads there is a Pro version available as well for $4.99.