Haiku Deck is the mobile app to destroy the boring PowerPoint stigma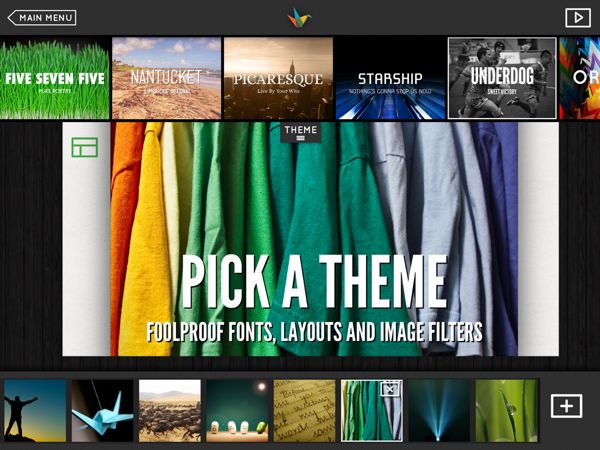 This week, a new iPad application called Haiku Deck launched the iOS App Store, and it's a must-see. The free application gives users the tools to create aesthetically appealing PowerPoint slide decks that are punchy and -most importantly of all- not boring.
PowerPoint has existed for almost 28 years, and it has created a culture of tedious presentations where shaky presenters fill their slides with too much information and use them as a script rather than as a tool for engagement.
Haiku Deck strips out all of the superfluous capabilities of PowerPoint, and gives the presenter only a couple of lines to fill with text. The majority of the app is for creating style and selecting appropriate images to drive the presentation. It kicks out the proverbial PowerPoint crutches.
"All of the presentation best practices say things like: One idea/slide. Use one powerful image. Don't mix fonts. Don't read off your slides…All of the competitive action in the category has been about adding features that give users more rope with which to hang themselves," Haiku Deck CEO Adam Tratt told BetaNews on Thursday. "We're delivering a tool that empowers communicators to be more effective and protects audiences from having to endure eight point font."
Haiku Deck presents the user with five different presentation theme packs, which assign the presentation default fonts and image filters. The themes were designed by Luz Brachter of Seattle-based agency Design Commission, and they fit right alongside the designs found in Instagram, Jux.com and Flavors.me. Users can upload their own pictures for their slides, or they can search through Creative Commons images in the app's built-in search interface. The app is free, but Haiku Deck is monetized by including 11 bonus themes that cost $1.99 each.
"We looked at a range of pricing options across competitive offerings," Tratt said on Thursday. "As a newcomer in the field, we decided to make the app itself free and try to build the business around premium content, starting with themes. The app economy and in-app purchasing in the productivity category is so new that we didn't have a ton of data to light the way here. At the end of the day, it felt like $1.99/theme was a good place to start."
By limiting the amount of text and highlighting the visual aspect of presentations, Haiku Deck effectively unlocks the PowerPoint presentation from its old roots as a tool for meetings and staid lectures. On the company's own site, they utilize Haiku Deck to create visual resumés for the executive team. The effect is powerful.
"Once we built the app, we realized there are all of these great uses for presentations that nobody considers because the process of creating traditional decks is so dreadful," Tratt said. "Now that Haiku Deck makes it awesome, we want to help users discover great new ways to think about creating and delivering rich content with it."
Haiku Deck is available right now in the iTunes App Store