Bing is the place to find amateur porn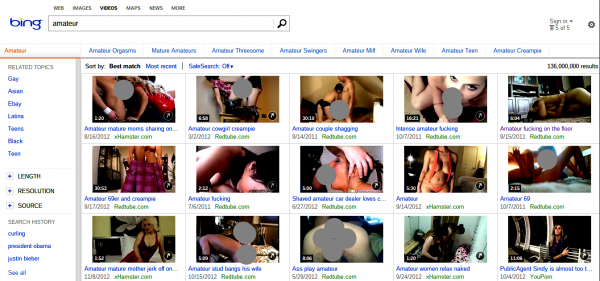 Overnight yesterday, Google made alarming changes to search that will irk some people and lead others to express thanks. Suddenly, porn is much harder to search for, even with the most generous content settings. In researching the difference, I used Bing as reference and am shocked by the result. Microsoft presents amazing porn search, all neatly packaged. I am no porn connoisseur, nor do I use Bing image or video search enough -- otherwise, the discovery wouldn't so surprise me.
Before continuing, some background: In the years before the Web's rise, I used shortwave radio to get news from around the globe. I still have a Grundig Satellit 750, but the worldband radio doesn't get much use. Sometime in late 2004, perhaps early 2005, I Googled "amateur radio" while shopping for new hardware. But I accidentally hit enter after "amateur", which to my surprise brought back page after page of porn. Google didn't organize images neatly as it does today but the skin was nevertheless easy to find. Since, I've used "amateur" as the benchmark for testing what's wrong with image search, which I do a couple times of year and most recently about a month ago. This week, for the first time ever, results are different.
The Bing Difference
With safe search off, the change is quite dramatic (and I find refreshing). Type "amateur" in image search and you'll see something like this. Go to Bing and image search "amateur" and you get endless porn. The contrast is dramatic. I started out the process primarily for reference, being unable to turn back the clock and see what Google presented before. But I recall porn presented as images on a page. Bing does much more.
Microsoft's search engine makes finding the stuff easy, by providing convenient short links across the top of the image search page: "amateur wife"; "amateur sex"; "amateur girls"; "amateur pawg"; "amateur tan lines"; "amateur girlfriend"; "amateur teen"; "amateur thong"; "amateur lesbians"; "amateur cells"; "amateur radio". Remember, this is all searching for the one word, which could apply, say, to all kinds of sports.
Off to the right under heading "Discover Bing Video" a thumbnail leads to a shocking selection of amateur porn that is well-presented and conveniently organized into headings like "amateur orgasms", "mature amateurs" and "amateur threesomes". Related topics include "gay", "Asian" and "Latina". Moving the cursor over any thumbnail starts the video playing right then and there. With sound! The screenshot above, without grey circles obscuring videos (which editors here added), shows what to expect.
Clicking through to a video brings lots more. Headings across the top of the page provide more video previews, like "amateur stud bangs his wife", which happens to be one of the vids that must be viewed at the original site (in this case Redtube). It's a virtual amateur pornucopia (not an original term, I know). Bing organizes the videos so well, I'll be back looking for stuff that I want to watch more.
Click to Skin
Porn isn't my thing, so in my earlier quick "amateur" Googles, I only searched images, not videos -- didn't think to look. I can only assume "amateur" produced similar skin to Bing before the algorithm change, but presumably not as well-presented. Seriously, I'm really impressed with Bing video search. Microsoft does as well for other topics, but not yet any I find better. Video searches for "Justin Bieber", "President Obama" and "Curling" bring up brilliantly presented video -- the latter term a mixture of the sport and hair techniques. But many more of the videos link to third-party sites than does the porn. That next level of granularity distinguishes Bing vid search but is lost when redirected to another site.
The net result for me as a user: I will use Bing as my primary video search engine, and likely images, too. Presentation, and visual search relevance, really impresses. Microsoft does a tremendously good job and I'm sorry it took a porn search comparison test to discover the benefits.
Still, there's irony here. With Bing image and video search being so good, and Google purging porn from search terms like "amateur", suddenly Microsoft's service is the place for skin. From my perspective as a parent, that's not exactly an appealing distinction.
As for Google, the only thing better now is the filtering. Image results still aren't relevant enough. Amateur can apply to many things -- baseball, hockey, ice skating, radio and skateboarding are among the many, many obvious images to deliver. I don't yet see enough of this kind of content -- 40 hours or so following the change, which greatly appeals to me. I would rather search for something innocuous like "amateur" and get lots of reasonably relevant results, not boatloads of porn.