Microsoft brings enterprise communication service Lync to Windows Phone 8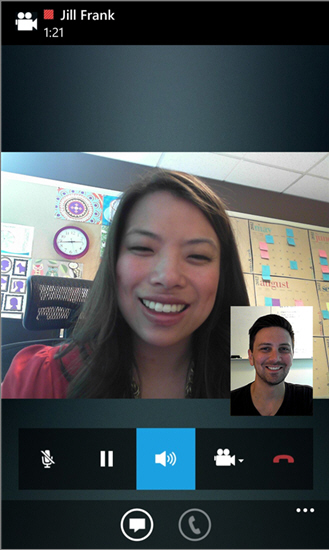 This morning, with no fanfare, Microsoft rolled out its Lync 2013 app for Windows Phone. Lync is a Skype-like product that is bundled with some versions of Office, but is geared towards an enterprise audience. Corporations can run a Lync server to keep better control over the service, but users can also communicate with outside people by using Skype from within Lync, as the two services are becoming better integrated.
The new Windows Phone 8 app offers VOIP, messaging and other communication features. Lync had previously been available for Windows Phone, but was not supported in the new Microsoft mobile operating system until today.
According to the announcement: "Lync 2013 for Windows Phone extends the power of Lync to your mobile device -- including voice & video over wireless, rich presence, instant messaging, conferencing, and calling features from a single, easy-to-use interface".
Lync for Windows Phone 8 allows users to view availability in real-time and choose from different communication methods, such as IM, email, voice or video. The app also lets customers connect in a meeting and forward calls. It additionally provides secure connections without the use of a VPN. The Lync for Windows Phone app is free, but requires connectivity to a Lync server or a Microsoft Office 365 plan that includes Lync Online.