Amazon Prime unveils winners in original shows popularity contest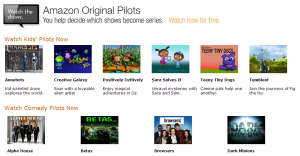 Back in April Amazon released 14 original TV shows, exclusive to Prime customers. The company, through its video production studio, promised to take the most popular of these and turn them into series. The viewers spoke, and now the retail giant today announces those results.
Five of the original 14 pilots have been accepted -- Alpha House, Betas, Annebots, Creative Galaxy and Tumbleaf all make the final cut. Meanwhile, one of the hot favorites, Zombieland, was not picked up. It became much less popular after customers actually watched it.
"We are thrilled at the enthusiastic customer response to our first original pilots," says Roy Price, Director of Amazon Studios. "We built Amazon Studios so that customers could help decide which stories would make the very best movies and TV shows. It's exciting to see the process in motion, doing exactly what we set out to do. The success of this first set of pilots has given us the push to try this approach with even more shows—this is just the beginning" he promises.
The new episodes will begin airing exclusively on Prime Instant Video later this year and in early 2014. An exact number of episodes for the three comedies and two childrens shows was not announced. Since launch in November 2010, Amazon Studios claims more than 15,000 movie scripts and 3,600 series pilot scripts have been submitted.