Pale Moon 20.2 delivers improved security and visuals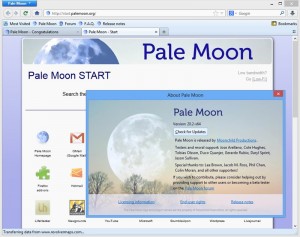 Moonchild Productions has released Pale Moon 20.2 and Pale Moon x64 20.2 for Windows. Also available in portable 32-bit and 64-bit forms, this performance-enhanced Firefox variant continues to base itself on an older build (version 20), despite the release of Firefox 22 FINAL.
Version 20.2 includes identical functionality to Firefox 20, which means developments in later versions of the popular opens-source browser, such as fully enabled WebRTC and social API extensions are not included here. This isn't surprising, as Pale Moon purposefully leaves the latter switched off by default as part of its commitment to deliver a more secure and speedier browsing experience.
Pale Moon-specific changes in version 20.2 include a "conservative" implementation of additional multi-core support, primarily in the field of media and graphics. This utilises OpenMP to run multiple threads simultaneously for additional performance gains on supported hardware.
The navigation buttons are updated again due to negative user feedback on the previously implemented inverted color icons and glass and dark themes. The pre-Pale Moon 20 style is reapplied, albeit with added contrast.
Pale Moon 20.2 also adds support for a wider number of embedded ICC profiles, which helps fix potential color issues on corresponding screens. One final change is an update to the browser padlock code, giving users a choice of the "modern" design that debuted in Pale Moon 19, or a "classic" look from version 15, when the feature was first introduced.
The update also includes a number of fixes, including one for a crash that occurred when rapidly reloading images and another for various JavaScript issues. Other fixes close security holes – in particular CVE-2013-1692, CVE-2013-1697 and CSE-2013-1694 from the main Firefox branch, plus one that prevents arbitrary code execution from the profiler developer tool.
Pale Moon 20.2, Pale Moon x64 20.2, Pale Moon Portable 20.2 and Pale Moon Portable x64 20.2 are all available now as freeware download for PCs running Windows XP or later.