Panabee sets sights on Go Daddy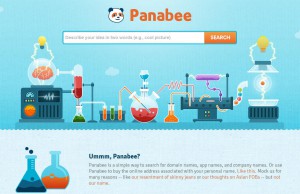 As the Internet gets bigger and more crowded it can be increasingly difficult to find a catchy domain name. Startup company Panabee aims to provide a simple tool for individuals and businesses to find great domain names and it has just reached the milestone of 10 million monthly searches -- up 50 percent from 2012.
Given the scarcity of available names, Panabee offers a new interface for brainstorming alternatives besides dot-coms. As consumers become more Internet savvy, it allows businesses to embrace different domain endings like .co.uk, .biz, .net and more.
Existing services make suggestions as well, but most revolve around alternative dot-coms. Panabee, however, offers a one-click ability to set and search new suggestions around one of 20 different top level domains. As new TLDs are opened up at the end of 2013 it hopes to grab opportunities in a changing market.
Panabee's domain search also allows for easy checking of multiple domains at once, including country-specific domains, as well as social media and mobile applications. Routinely users will search for domains without knowing whether the social media profiles and apps associated with these names are taken. With Panabee, domain searches show related terms, web search results and social media profiles containing the keywords so you get a complete overview of your chosen name and have the ability to brainstorm ideas.
Panabee's marketing has long followed a different script than Go Daddy's, "sex sells". Say the founders of Panabee, "We market our products with humor, not money. Because it's bold and clever. Also because we spent all the VC money on Will & Kate royal wedding posters". They add, "If you needed a startup name in 1998, you used Go Daddy. If you need one in 2013, you use Panabee".
You can find out more about this quirky approach to domain searching at www.panabee.com.