Microsoft updates Lync mobile client, no longer requires an account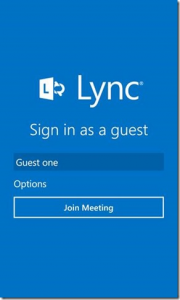 Back in March of this year Microsoft released its mobile clients for Lync and Lync Server 2013 and, since that initial release, the company has twice updated the app. Today marks the third refresh for the enterprise communications tool, which is available across Windows Phone, iOS and Android (though the latter is not included in this update). This latest update brings two important new features to the platform.
First, is the ability to join and participate in a Lync Meeting without having to own a Lync account. "We've heard that many people want the ability to join Lync Meetings from their smartphones, even if they do not have a Lync sign-in. For example, contractors or partners may want to join your Lync Meeting while travelling or away from their PC", the team explains.
Second, the company is adding the ability to start an unscheduled Lync Meeting (either IM or video) directly from a mobile device with multiple participants. "The ability to connect with people quickly and easily is one of the best features of Lync on the desktop, and we're excited to bring it to our mobile apps for Windows Phone, iPhone and iPad today".
Finally, Microsoft is also adding an additional authentication mechanism to the Lync mobile applications and reducing the need to store Lync credentials on any of the other devices.
The update is available for all users today, and Microsoft promises that more are on the horizon.