Monitor your Windows event logs with EventLog Inspector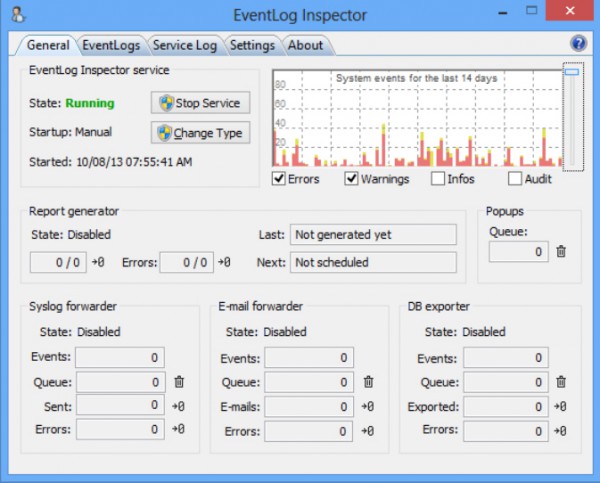 The Windows event logs can be an excellent troubleshooting resource, as they record all kinds of system and application alerts which you just won't find anywhere else. Windows doesn't exactly make it easy to work with the logs, unfortunately, but that doesn't have to be a problem: just installing the free (for non-commercial use) EventLog Inspector could give you everything you need.
The program is small, installs easily and without hassle. It's also very unobtrusive, doesn't add an icon to your system tray or anything similar. In fact, you have to fire it up manually by launching EventLog Inspector and clicking "Start Service".
As soon as the service is activated you'll see a small graph showing "error" and "warning" events for the last 14 days. There's no detail here, but it's still very useful: once you're used to the typical spread of events, you'll see at a glance whether there's something unusual going on.
Need more information? Click EventLogs > Generate Custom Report. There are useful options here, but just click "Generate" for now and EventLog Inspector produces a detailed HTML report covering all the system log events for the past 8 hours. (We found the scripting didn't work properly in Internet Explorer -- sections of the report wouldn't open and close correctly -- but when we opened the report in Firefox or Chrome, the problems disappeared.)
Reporting on events is great, but sometimes it's better to know about them as they happen: and EventLog Inspector can help there, too. Click Settings > Popups, select "Notify about all system events", click Apply, and alerts will now appear whenever an event is added to one of the system logs. Open the Control Panel "Windows Update" log, maybe open Microsoft Word or Outlook (if you have them installed) to see how this looks.
These popups can become annoying, of course, but there are other options. Click Settings > Reports and you can have EventLog Inspector generate custom event reports on your preferred schedule, saving the results to disk for easy reference later.
Or maybe you're trying to diagnose a problem on someone else's PC? The program can be set up to forward particular events to an email address, even save them to an external database.
Put it all together and EventLog Inspector is a powerful and versatile tool, packed with essential event management features, yet still relatively easy to use. And if you ever make use of the regular event viewer then you definitely need to give this a try.