Vizio unveils Co-Star LT, lite version leaves off Google TV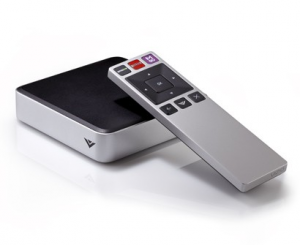 Vizio Co-Star has remained one of the more popular set-top boxes for those looking for a Google TV experience. The tiny device brings along all of the features found in more expensive cousins from the likes of Sony, but with less of the big-name price. While rumors persist of an impending name-change for the search giant's foray into the living room, details of an updated media OS have been tough to come by.
Vizio, leaving nothing to chance, is hedging its bets with a new model of that Co-Star box that shuns Google TV...ah, Android TV...you get the picture. Instead, the television manufacturer is focusing on bringing its smart TV technology to, well, dumb TV's.
The Co-Star LT "includes the more intuitive smart TV platform, VIZIO Internet Apps Plus, as well as HDMI input and HDMI output, allowing users to browse apps while still watching live TV", according to the announcement.
The new box also comes along with second-screen technology for use on your smartphone or tablet, as well as built-in WiFi for those unwilling to hack walls for that ethernet connection.
Just because you aren't getting Google TV does not mean the box will be handicapped -- Vizio promises integration for Hulu Plus, Amazon Prime Video, iHeartRadio, M GO, Netflix, YouTube, VUDU and more. All of this will be intertwined with a new interface and support for HTML5.
"Committed to providing an exceptional experience with the latest technology, the Vizio Co-Star LT stream player not only adds smart TV features to standard HDTVs, but also delivers intuitive second screen interactivity", the company promises.
The Vizio Co-Star LT is available beginning today and retails for $79.99, which knocks $20 off the standard Co-Star set-top box. It's a small savings and, regardless of Vizio putting a good light on it, still lacks what Google brings to the experience. Despite its shortcomings, Google TV adds a web browser and access to Google Play, which makes up for a lot.