Bing for Windows Phone adds ski reports, more sports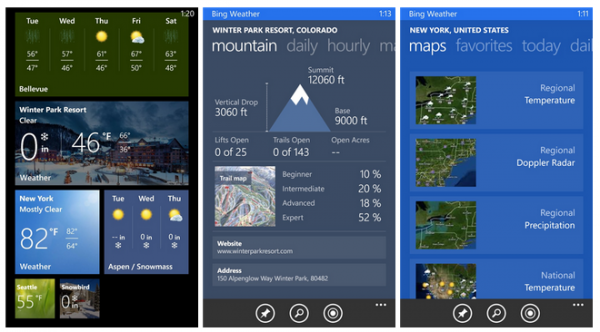 With winter coming here in the northern hemisphere, our mindset begins to change. Trips to the beach are replaced by ones to the slopes. The "boys of summer" are replaced by the guys on the gridiron, the court and the ice rink. It's the perfect time for skiers, snowboarders and sports fans.
Now, the Bing Weather app is adding ski reports to its list of features -- "you'll find the app now supplies current snow and weather conditions at ski resorts around the world, plus weather history and additional metrics like the UV index", reports Microsoft's Michael Stroh.
In addition, the app has revamped its live tiles, which can now show current conditions, wind speed, precipitation and the five-day forecast, along with lock-screen weather updates.
If you would rather stay home and watch other people participate in sports then you're in luck as well, as Bing Sports has also received the update treatment. "The Bing team also significantly beefed up coverage in its free Bing Sports app, adding 30 new sports including tennis, rugby, NASCAR, LPGA, and Champions League soccer", Stroh points out.
Bing Sports now allows you to track sports and individual athletes that you choose, plus the app can display leading teams and athletes on the league and team pages.
Both apps are updated in the store and ready to add to your Windows Phone now, if you do not already have them.