Amazon throws a Kindle sale to honor the FAA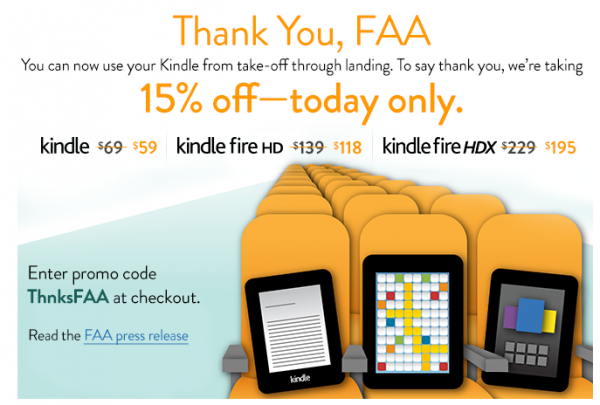 The Federal Aviation Administration, better known as the FAA, has lifted the last of its device restrictions, allowing people to finally use electronic devices during takeoff and landing. The ruling went into effect last week, with Delta being the first airline to allow passengers the privilege.
"We've been fighting for our customers on this issue for years, and we are thrilled by the FAA's recent decision -- this is a big win for customers. Delta and JetBlue have already started flights with the new rules -- we're excited to see which airlines are next", said Drew Herdener, vice president of Amazon.
Today, Amazon salutes the government organization, but also hopes to sell a few gadgets in the process. The retail giant has announced that "customers can receive 15 percent off Kindle Fire HD, Kindle Fire HDX 7", and the $69 Kindle for one day only -- simply enter the promo code 'ThnksFAA' at checkout to receive the special discount".
The deal is good today only, and price knock-downs include the $69 Kindle for only $59, the new Kindle Fire HD for $118 and the brand new Kindle Fire HDX for $195.
The Kindle line of devices are already among the lowest priced in the category, largely because Amazon can make up the cost on the backend by selling books, apps and media. It is not the first time the company has offered discounts on these products -- the original Fire HD, priced at $199, was frequently in and out of $159 sales in the weeks leading up to the Fire HDX announcement.