Intel: Harpertown Xeon Performance Will Beat QC Opteron

In the only raw performance test figures revealed yesterday by Intel Senior Vice President Pat Gelsinger at Fall IDF in San Francisco, preliminary tests of the company's forthcoming quad-core "Harpertown" architecture Xeon 5400 show it beating a quad-core Opteron 2300 system in the critical SPEC floating point throughput rate test by just over 4%.
"We have leadership on a broad range of benchmarks," Gelsinger proclaimed yesterday, "literally every benchmark. But the area where competition is closest is in bandwidth-intensive and floating-point areas. And what we see here is [that], with the improvement of the 1600 [MHz] front-side bus, [and] the larger cache of 3.2 GHz, going from [Intel] Clovertown to Harpertown, a 34% improvement."
Intel's tests showed a current generation (Clovertown) Xeon X5365 scoring a 66.9 in the SPECfp_rate2006 test. BetaNews confirmed that number this morning with the SPEC database, which revealed it to be a peak performance number, not a base (mean or average) performance number; for the dual-processor Supermicro X7DB8+ system used by Intel in that test, the base performance score was 63.1.
Assuming Intel is comparing peak scores only, Gelsinger's 32% improvement claim does check out, although the company has yet to submit a formal score for the Harpertown generation X5400 to the Standard Performance Evaluation Corporation.
---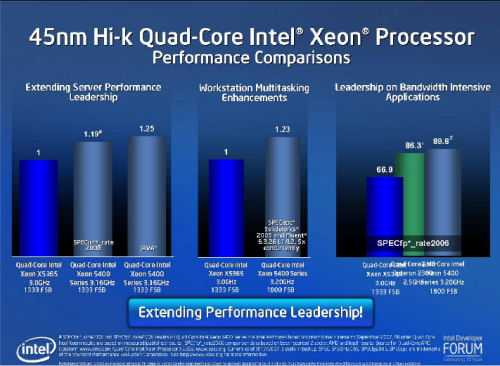 ---
Gelsinger cited an 86.3 score for an AMD Opteron 2360 processor-based system in the same test. But that may be an estimated score, since the 2360 is the anticipated 2.5 GHz edition "Barcelona" model that is still slated for release later this year; the 2.0 GHz 2350 is the highest performance edition available now. SPEC posted AMD's floating point rate score for that model at 77.3 peak performance, 72.4 base.
Setting aside the possible adjustments between estimates and final values for a moment, is Intel's comparison truly - to avoid the other connotation - oranges to oranges? The X5400s used in Gelsinger's comparison are 3.2 GHz processors that are resting on Intel's newly accelerated 1600 MHz front-side bus (1333 MHz being Intel's norm). Maybe the X5400 does beat the 2360 by 4% or so, but even Gelsinger himself didn't obscure the fact that his chip was revving at 22% more "tick-tocks" per second.
Still, he went on to proclaim, "Harpertown wins on [SPECfp_rate]...the fastest machines on the planet."