CherryPal computer-Internet appliance hybrid goes on sale for $249

Not quite a thin client, not quite a full-blown desktop, the two-watt CherryPal C100 "cloud computer" is available for order today.
Silicon Valley startup CherryPal is offering its eponymous system with a profile of only 5.8" x 4.2" x 1.3", weighing only 10 ounces, with a crawling 400MHz processing speed. But it's not designed to replace a full-fledged desktop, and at most resembles an Internet appliance.
For $249, the CherryPal has a Freescale MPC5121e MobileGT processor, 256MB of DDR2 RAM, 4GB of NAND Flash memory (supplemented by 50GB of free, non-subscription cloud storage), 802.11b/g wireless, 2 USB ports, 1 10/100 Ethernet port, and DBA-15 VGA and 3.5mm stereo outputs.
Unlike Asus, which took its successful Eee brand of netbook and converted it into a desktop, CherryPal leans more heavily on the cloud computing paradigm, where practically all functions are handled over the Internet through a modified version of Firefox.
The company claims it will take care of all the "technical details, like upgrading or installing software," so the user will never even have to go into the Debian GNU/Linux operating system that runs underneath.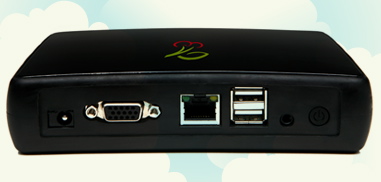 Asus' Eee Box, on the other hand is a more full-featured desktop unit running Windows XP, equipped with a 1.6GHz Intel Atom processor, 1GB DDR2 RAM, and 80GB hard drive. While it also claims to have reduced power consumption by 90%, Anandtech stats put the Eee Box at 14.4W when idle and 19W under load. When compared to the CherryPal's meager 2W consumption, it seems like a power hog.
CherryPal will concentrate mostly upon "cloud" applications that run within Firefox, such as Google Docs and other Web-based services (Facebook, MySpace, Flickr, etc. are all considered applications). Users can store files on their free 50GB CherryPalCloud account, which utilizes Amazon's S3 storage service.
The company plans to make money by serving up ads as these Web applications are loaded, but hasn't said when they will start appearing. CherryPal plans to make further announcements on its advertising initiative in the near future.
Still, the CherryPal will have some local desktop-based functionality, including OpenOffice, and the company's own branded IM client and media player. Strangely, CherryPal claims its diminutive PC will also run iTunes, although it's not clear how this would be accomplished since Apple has not released a version of its media player and digital media store for Linux.