HP announces BIOS update, repairs for faulty Nvidia GPUs

HP has announced a "Limited Warranty Service Enhancement" for many of its notebooks equipped with faulty Nvidia Geforce GPUs, including a wide range of HP Pavillion and Compaq Presario notebooks.
Like Dell's recent BIOS upgrade to correct overheating GPUs, HP announced a similar fix for its HP Pavilion dv2000, HP Pavilion dv6000, HP Pavilion dv9000, Compaq Presario V3000, and Compaq Presario V6000 series notebooks which contain contain 7-series Nvidia GPUs. This defies previous assumptions that the 8-series of Nvidia products were the faulty GPUs the company did not name in the SEC filing describing the problem.
A BIOS update for those systems is available now. In addition, HP is offering free repairs to customers with a notebook suffering from certain symptoms.
Unlike Dell, however, HP is not expressly mentioning GPU issues as the sole reason for the BIOS fix and free warranty extension. Other issues, such as those with booting and wireless network detection, are also included in the symptoms lists.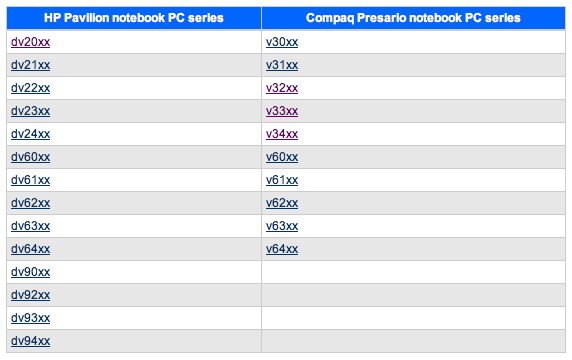 Notebooks with product numbers within the ranges on the chart are all eligible for free repair, should they behave abnormally.