With its own iPhone app, Kindle becomes a genuine brand

Amazon today has officially launched the Kindle application for iPhone and iPod Touch. While Amazon's flagship e-paper reader and Apple's devices are in fundamentally different device classes, bringing the e-book platform to the iPhone completely changes the Kindle brand.
The era of the Kindle as "The iPod of books," is no more. Now that the actual iPod has access to the same library of 240,000 books, it's the era of the Kindle platform.
It only makes too much sense. After all, Amazon is not, by design, a consumer electronics manufacturer. Peel back the integument of cloud service provider, digital content download market, and all the other facets to Amazon's business, and at the core you have a bookstore. Making Kindle content readable on the iPhone and iPod shows that selling Kindle hardware just might not the primary drive for Amazon when making literature simple and available could be.
But doing this involves a serious change to the way books are consumed. "Kindle for iPhone and iPod touch is a great way for customers to catch up on their current book wherever they are, like in line at the grocery store or between meetings," said Ian Freed, Vice President of Amazon Kindle. With Whispersync, a user can pick up on his iPhone where he left on his Kindle, making quick and constant consumption of literature the norm.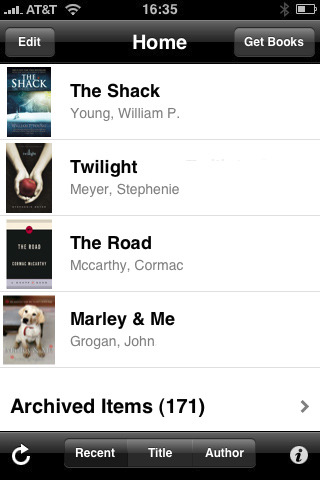 Speaking as an "immersive reader," the idea of reading a novel in short, two page bursts is frightening. Many authors can scarcely complete a single thought in less than five pages, so opportunistic reading such as that mentioned by Freed may not work too well with the Marcel Prousts of the world. It strikes me as the same as trying to watch a two-hour movie in five minute chunks over the course of three days. It can be done, but the critical element of continuity is lost.
While Amazon does not market Kindle for iPhone as a primary vehicle for e-book consumption, it can certainly be used as one. Books can be downloaded over the air, and text can be resized, annotated and bookmarked just like it can on the Kindle. iPhone users even have access to Amazon's Manage Your Kindle services. However, the onus is on the reader to try to complete Remembrance of Things Past on a 3.5" screen.