High resolution satellite images offer up-close view of North Korean missile site

As tensions rise in the Far East, satellite-image purveyor GeoEye has snapped a pair of finely detailed images of activity at North Korea's Musudan-Ri missile facility, the most recent gathered at 11:49am local time on Sunday, March 29. The image, taken from 423 miles up and at a slightly oblique angle, shows the launch pad, the vehicle assembly building, and (according to analysts at GlobalSecurity.org, who have reviewed the image) a great many vehicles near the facility's launch control complex.
GeoEye, with the help of an analyst at IHS Jane's, has annotated the March 11 image for your viewing pleasure. The annotations spotlight the missile launchpad with its umbilical cord, the large Launch Control Complex to its north, the Missile Assembly and Checkout Facility just to its west, and an Engine Test Stand in a defile to the southeast.
North Korea says it will test launch a rocket, which it claims is designed to carry a satellite into orbit, in early April. The United States says it will not interfere with the launch, although Japan has said it will shoot the rocket down if it enters the country's airspace. U.S. officials including Defense Secretary Robert Gates contend that North Korea is interested in developing intercontinental ballistic missiles and this launch is part of that effort.
View the full-resolution image taken on March 29 or click the photograph below for the annotated image taken on March 11 detailing each area.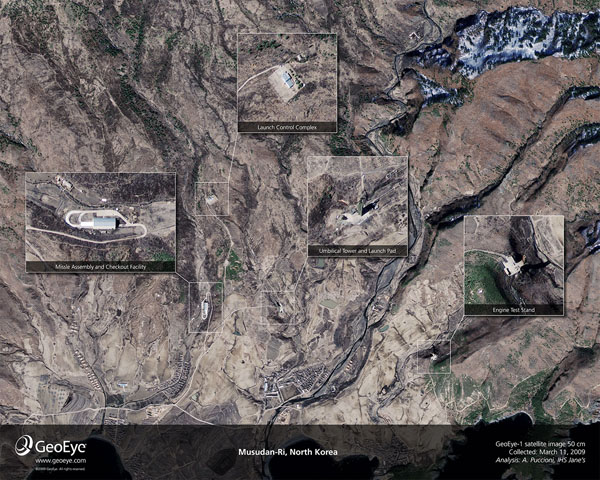 Both images courtesy of GeoEye Satellite Image.