New hope for free encoding in Blu-ray videos with x264

The problem for independent video producers and enthusiasts has been the inability to encode videos that can be burned to Blu-ray Discs, and then actually played on BD consoles. That changed yesterday as Jason Garrett-Glaser, the leader of the open source x264 project that has seen success with DVDs, announced his team was able to encode a playable Blu-ray video using entirely free software.
That disc is being released as a kind of "Hello, World" effort for the high-definition format. It contains free videos folks have probably seen before, such as the Creative Commons licensed cartoon "Big Buck Bunny." But the image was designed to be small enough (2 GB) to be burned to either a DVD or a BD, to further prove the software's versatility.
"With x264's powerful compression, as demonstrated by the incredibly popular BD-Rebuilder Blu-ray backup software, it's quite possible to author Blu-ray disks on DVD9s (dual-layer DVDs) or even DVD5s (single-layer DVDs) with a reasonable level of quality," Glaser wrote yesterday. "With a free software encoder and less need for an expensive Blu-ray burner, we are one step closer to putting HD optical media creation in the hands of the everyday user."
The x264 codec utilizes independently derived math to produce video that follows the H.264 format, so it can be decoded using commercial software and console firmware as though commercial encoders had rendered it. Independent tests indicate obvious superiority with handling artifacts and moving objects compared to Windows Media Video, especially in the comparison featured on this page (warning, several big images included, plus the site hosting it appeared to be a victim of DNS hijacking at the time we checked it).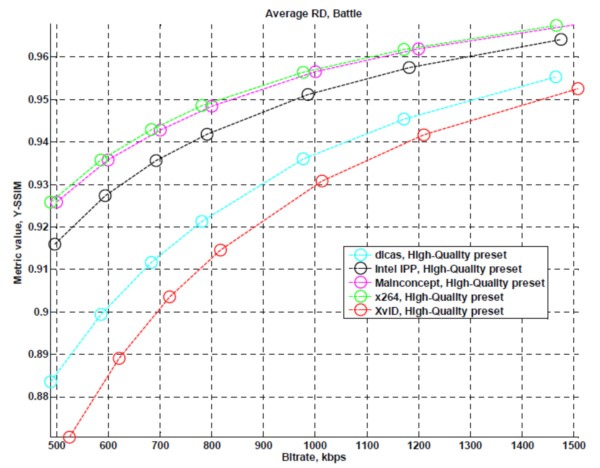 The most recent comparison of average rate distortion curves (RD curves) over variable bitrates, by the Graphics & Media Lab of Moscow State University (PDF available here), reveals somewhat superior performance from last year's permutation of the x264 encoder, including against expensive competitors like MainConcept H.264. Engineers conducting the test suggested that x264 could actually be used as a benchmark against which all other codecs in the last five years could be judged.