Samsung adds second screen in new Android Galaxy S smartphone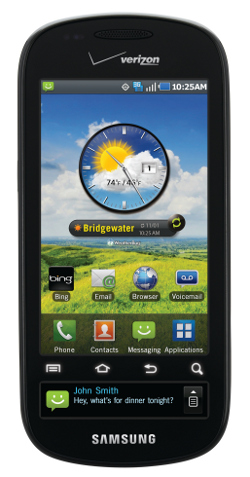 Samsung today announced a new Galaxy S smartphone called the Continuum, which adds a secondary "ticker" screen beneath the main one, that can be activated simply by gripping the phone.
Not unlike Barnes & Noble's first generation Nook e-reader, there's a 1.8" almost-always-on touch panel mounted beneath the Continuum's 3.7" Super AMOLED screen. The ticker screen can be used to show RSS updates, incoming and missed messages, be used to launch widgets, or control calling and media player functions while the main screen is turned off.
<!image id=5478 center>
While this may seem like a pointless frill, it's actually quite useful, and carries deeper implications for Samsung.
Firstly, using the ticker screen for essential information like messaging and feeds, you don't have to activate the larger screen, and less battery power is consumed. The same goes for occasions when the media player or call controls are minimized to the ticker window, it actually improves the usability of these functions.
<!image id=5477 center>
But aside from improving usability, this second screen represents something deeper. It means Samsung has a live Android 2.1 branch that supports multiple touchscreens*. Among other things, this could be used to build an Android smartphone in new form factors, like clamshell, which doesn't exist in the Android world yet.
In August, Samsung said it had sold 1 million Galaxy S smartphones in the U.S. Today, Samsung said that it has sold more than 3 million Galaxy S devices in the U.S.
Certainly, Samsung's Galaxy S line of mobile devices casts a broad shadow over the increasingly crowded Android business, with its Super AMOLED-equipped 1GHz <!article id="1283878072"> devices on the top five wireless carriers in the United States, and the 7" Galaxy Tab available with <!article id="/1288030542">carrier subsidies, or as a no-contract, Wi-Fi only device.
<!image id=5476 center>
While unique Android smartphone form factors have been <!article id="1286339852">coming almost exclusively from Motorola, it's good to see Samsung whipping out an Android phone that differs from the standard touchphone shape.
*Though a Samsung representative tonight said it's actually just the standard 4" touch panel "broken into three sections."