MacPaw claws away Windows clutter with CleanMyPC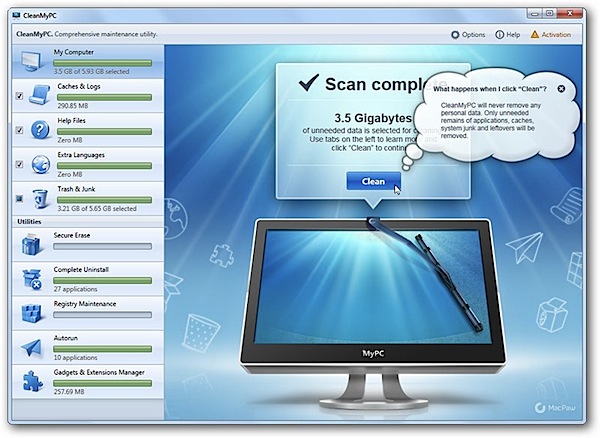 Kiev-based developer MacPaw, best known for its CleanMyMac tool for Macintosh computers, has ventured onto the Windows platform for the first time with an equivalent cleaning application for the PC, the appropriately titled CleanMyPC.
As the name implies, CleanMyPC includes a suite of cleaning tools for Windows computers. The main cleaning component promises to remove gigabytes of files from your PC, and is backed up by five further maintenance tools: Secure Erase, Complete Uninstall, Registry Maintenance, Autorun and Gadgets & Extensions Manager.
CleanMyPC opens with a slick, glossy user interface. It's not all about looks, though, as the program bends over backwards to explain what's going on and make things as easy as possible for the end user. Taking the main cleanup tool as an example, once you've scanned your computer you can review exactly what the program intends to remove.
At this point we should point out that the bulk of the savings CleanMyPC promises to make involve removing System Restore points and deleting the Hibernation file, and while genuine savings of hundres of megabytes are still possible, the fact System Restore points are selected for deletion by default highlights the importance of manually reviewing what the program intends to delete, particularly considering the absence of any backup options or confirmation dialogs.
The other tools are largely self-explanatory, if a little limited in places, and equally easy to navigate and use. The Gadgets & Extensions Manager is worth highlighting because it allows the user to easily review and remove unwanted browser extensions as well as little used Windows components.
CleanMyPC is available for free download as a function-limited demo -- many components won't function beyond offering a preview, while the main cleanup tool is limited to removing a maximum of 500MB of data before registration is required. An unlimited license, which includes all future updates, costs $29.95, although there is a special launch day offer available. The program requires a PC running Windows XP, Vista or 7.
Get more applications news like this at Software Crew.