Mark Zuckerberg unveils Facebook Video Calling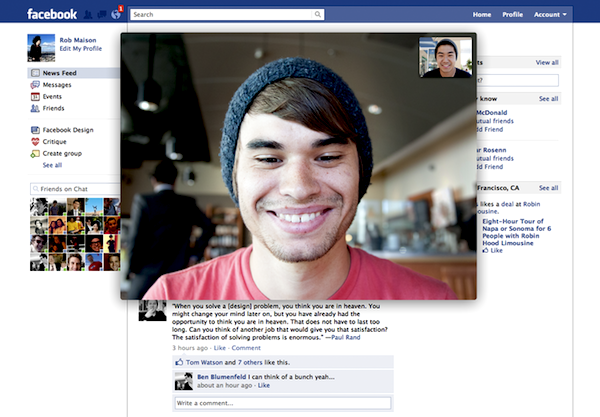 Early this afternoon, Facebook CEO Mark Zuckerberg debuted three new personal connection service updates -- group chat, chat redesign and video calling.
Last week, Zuckerberg hinted at something "awesome" coming today. Early rumors tipped to in-browser video chat powered by Skype.
Zuckerberg described today's announcements as the "beginning of launch season 2011". By far, video calling is the big news. Integration could be a huge boon for Skype. Someone can initiate a video call without the other person having the Skype plug-in installed. When one party calls, the other receives a prompt to install the plug-in if it's not. The call takes place right in Facebook.
During today's event, Skype CEO Tony Bates said the service now averages about 300 million minutes a month, and at peak times video accounts for more than 50 percent of Skype traffic.
"We get huge reach", he said about Facebook integration, and that's an understatement. Skype also will later offer paid products to go with free Facebook Video Chat.
Zuckerberg said that the Skype deal is a metaphor for more to come. Facebook will focus on the "social infrastructure" and leave app development to "independent entrepreneurs". Zuckerberg said the future isn't about connecting people but about building "cool apps".
Regarding group chat, more than half of Facebook users use it, Zuckerberg said. New features will make the process easier.
But Facebook's additions may seem minor considering Gmail has had video chat for ages. More importantly, video chat is only one-to-one. That gives Google a huge advantage with the new Google+ service, which offers group video chat. During the event's Q&A, Zuckerberg dodged a question about when group chat might come by emphasizing the intimacy of one-to-one video calling.
That said, Facebook chat is huge among younger users, who may know nothing different. For people who live on Facebook, where messages matter more than email, group chat and video calling could hugely appeal. After all, their friends already are there.
Today, Zuckerberg said that "social networking is at an inflection point" now. For years people asked if social was a fad, but "now the world generally believes that it is going to be everywhere". Facebook's CEO said the "companies that are best in class" are focusing on social.
The next five years isn't going to be just about active users, Zuckerberg said. "The rate at which they're sharing more stuff" is growing at an "exponential rate" -- "that's really profound". There are "4 billion things shared everyday", he emphasized.
Facebook now has 750 million users, Zuckerberg said.