EASEUS brings cleaning software to Macs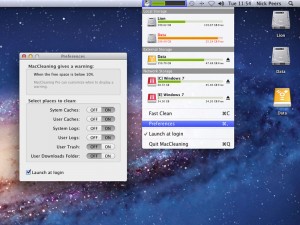 EASEUS, best known for its Windows data recovery and partition management software, has ventured into the Mac market with its first new release.
MacCleaning Free 1.0.0 is a drive monitoring and cleanup tool for OS X 10.6 (Snow Leopard) or later. Not only does it give you a quick overview of your drives' free space from the menu bar, but it also provides a "fast clean" option for clearing out certain parts of your hard drive.
By default, MacCleaning Free only empties the Trash and deletes the contents of your personal Downloads folder – select Preferences after clicking the menu bar icon, and you can also clean out up to four additional locations: system and user caches, and system and user logs.
The application, which is configured to start with your Mac, will sit unobtrusively in the menu bar, showing a bar chart revealing the overall free space on your drive. Should this dip below 10 percent, an alarm will be sounded. Clicking the menu bar icon reveals individual charts for each drive or partition connected to your Mac. Removable drives also have an eject button, allowing them to be quickly and safely unmounted from your computer.
The program's cleaning capabilities are a little disappointing, even for a free tool. More experienced users looking for more control over which caches are deleted, or wanting even more cleanup options, should take a look at OnyX instead.
A Pro version is also available for $9.99, which allows you to set the trigger point for the low disk space alarm (from 10 per cent up to 40 per cent), plus eject all removable drives with a single click.
MacCleaning Free 1.0.0 is a freeware download for Macs running OS X 10.6 (Snow Leopard) or later.