Don't miss the end-of-January software sale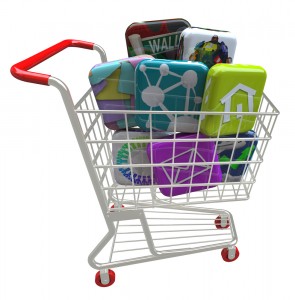 You can find plenty of bargains at Downloadcrew Software Store, but there have been even greater savings to be had this month. If you're thinking about investing in some new software, now is the time to do so -- these special offers will end when we reach the end of January.
The holiday season is now a month behind us, so it's time to think about organizing all of those photos you took during family get togethers. CyberLink PhotoDirector 2011 may be just what you've been looking for. This is a seriously powerful photo editing tool that includes support for RAW images and boasts a range of features to rival Photoshop. Buy the software now for just $44.95, a savings of just 55 percent off the MSRP, and you will receive a free upgrade to PhotoDirector 2012 v3 when it releases in February.
You may well also have video files you want to take care of and if this is the case, take a look at CyberLink Video & Photo Collection 1.0. For $99.95, a 33-percent savings, you can grab yourself a super powerful photo and video editing package which includes a range of incredible 3D effects.
You may have decided to treat yourself to a new computer for 2012, and whether or not the case, it is worth investing in some software to help keep your system running at peak performance. Look no further than TuneUp Utilities 2012 [3-PC, 1-Year], which will help to keep your system optimized -- and you can save 62 percent off the MSRP when you buy the software for just $18.95. Small businesses can make an even greater 75 percent savings when buying TuneUp Utilities Business Edition 2012 [5-PC, 1-Year] for just $19.95.
Security is going to be more important than ever this year. To help fight the threat of viruses, look no further than AVG Anti-Virus 2012 [1-PC, 1-Year]. For an amazingly low price of $5.95 (saving you a staggering 85 percent off the usual price) you can get yourself a copy of this highly acclaimed antivirus tool. For just a little extra, AVG Internet Security 2012 [1-PC, 1-Year] offers AV protection as well as parental controls, online backup and more -- all for just $12.99.
For AVG's ultimate protection package AVG Premium Security 2012 [1-PC, 1-Year] is available for just $19.99. This includes the added bonus of identity protection and Quick Tune optimization to help speed up your system, and all for 71 percent off the MSRP. If looking after the performance of your computer is of interest, AVG PC Tuneup 2012 [1-PC, 1-Year] is available at the discounted price of $11.99, and if you have more than one computer to take care of, you should take a look at AVG PC Tuneup 2012 [3-PC, 1-Year], which you can buy for just $19.99 – saving you 60 percent.
Looking for online storage? AVG LiveKive 2012 [UNLIMITED storage]includes all of the cloud storage you could possibly need and you can save yourself a massive 70 percent when you buy an unlimited package for just $14.95.
Sticking with the security theme, Bitdefender Antivirus Plus 2012 [1-PC, 1-Year] is available at the bargain basement price of $4.95 -- a gigantic 80 percent savings. You might also be interested in Webroot Internet Security Complete 2011 [3-PC], which can be used to protect up to three computers against viruses, spam and ID theft. The low price of $9.95 represents a huge 88 percent savings off the usual MSRP, and an even greater saving is to be found with Webroot Internet Security Essentials 2011 [3-PC] with a 90 percent saving bringing the price down to just $5.95. Both of these program include a free upgrade to Webroot SecureAnywhere.
A new year is as good a time as any to learn a new skill or take up a new hobby. If you've ever fancied the idea of becoming a DJ, we have just the software for you. MAGIX Digital DJ 2 is available at the discounted price of $29.99, saving you 40 percent, and is a powerful music tool can be used to mix tracks like a pro on a set of digital decks.  More creative software is available in the form of MAGIX Music Maker MX, which you can snap up at a 33-percent discount for just $39.99.
With a huge collection of samples, loops and effects to work with, you'll find that it's incredibly easy to create something truly impressive that you can share online with others. You can save more than one third off the MSRP when you buy MAGIX Movie Edit Pro MX for just $45.99, and when you do so you are equipping yourself with everything you need to edit and enhance your home video footage.
Anyone looking to protect valuable data should look at Genie Timeline 2.1 Professional, which is an innovative backup tool that makes it easy to safeguard your valuable files. Available for just $9.95, you can save 83 percent off the MSRP when you buy this great tool today. Multi-computer households can take advantage of an 83-percent savings off Uniblue PowerSuite 2012, and for just $19.95 you can equip yourself with an advanced tweaking and optimization tool.
Finally for this roundup,Laplink PCmover Professional v6 is a great tool for anyone making the move to a new computer. For a mere $29.95 (a saving of 50 percent), you can buy this incredibly useful tool that will help you to move your files, programs and settings from one computer to another with a minimum of effort.
Don't forget, these special offers expire at the end of January, next Tuesday, so be quick and take advantage while you can.  These are just some of the highlights from the store – there are plenty more bargains to be found so head over to the Downloadcrew Software Store to see what you can pick up today!
Photo Credit: iQoncept/Shutterstock