Amazon's Android App Store hits one year mark: 1000% growth since Kindle Fire launch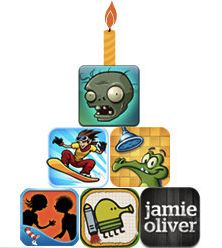 Leading Web retailer Amazon.com has declared the Ides of March to be the beginning of its Android App Store's anniversary. The app store launched one year ago with approximately 4,000 different applications available for download, and it has grown to more than 31,000 at the end of its first year.
A major push for Amazon's Android content delivery platform came in September with the launch of the Kindle Fire Android tablet. The device is closely tied to a user's Amazon account, and the interface revolves around the Amazon ecosystem, with the MP3 shop/cloud player, Kindle reader app and bookstore, Amazon Video on Demand, and Amazon Prime.
Like the other mobile platforms, Amazon's most popular app categories in order of importance are: games, entertainment, and productivity. The top ten paid apps in the Android App Store were all games. Similarly, the app that was "test driven" the most, (played in-browser without downloading) was also a game. In total, Amazon said customers spent more than 7,700,000 minutes test driving apps.
"Customers have used the Amazon Appstore to test drive and buy millions of apps and games for their Kindle Fire and other Android devices in the first year alone," said Aaron Rubenson, director of Amazon Appstore for Android in a statement on Thursday. "To thank customers for shopping with us, we worked closely with our developers to offer special discounts on some of the most popular apps all week long."
This anniversary promotion will include app price reductions, Kindle Fire giveaways, and more.