Save 70% on Cyberlink PowerDirector 9 Ultra64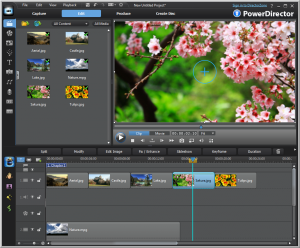 If you're looking for a video-editing suite that combines a powerful feature set with user-friendly features while taking full advantage of your computer's hardware to deliver blistering performance, then Cyberlink PowerDirector 9 Ultra64 fits the bill perfectly. While it's been superseded to some extent by version 10, it's still an excellent video-editing tool in its own right.
If you're looking for a fast, powerful and reliable video editor for a price that won't break the bank, you've come to the right place. You can pick up a full version of Cyberlink PowerDirector9 Ultra64 for just $29.95 -- that's less than a third of its MSRP! But hurry the offer ends at 23:59 Central European Time tonight. That's 6:59 pm EDT, Americans.
As its title suggests, Cyberlink PowerDirector 9 Ultra64 is optimised to take full advantage of 64-bit computing. It's fully 32-bit compatible, and there are plenty of performance improvements that work across the board (such as support for GPU acceleration and multi-threading), but the big jump for those running 64-bit Windows is that the software can take full advantage of all of the RAM installed in your PC, not just the first 4GB.
With performance taken care of, PowerDirector 9 Ultra64 also boasts some pretty impressive features. A 100-track timeline might sound excessive, but it comes with enhanced editing tools such as grouping clips together or inserting clips wherever you like in the timeline. It basically provides with all the flexibility you need to pile on layers upon layers of video, audio, images and effects.
Effects can now be edited in one place thanks to new, enhanced keyframe controls, while the WaveEditor lets you mix your audio to perfection. Finished products can be uploaded to the web, exported in a variety of formats for transferring to mobile, or burned to a variety of media, including Blu-ray discs for full HD compatibility.
The Ultra64 build we're heavily discounting here has numerous advantages over the cheaper, less fully featured Deluxe version. There's the full 64-bit support for starters, plus the ability to both capture and burn to HD disc formats: AVCHD, Blu-ray and BDXL.
It all adds up to an incredibly powerful video-editing and publishing tool. For a complete rundown of Cyberlink PowerDirector 9 Ultra64's features, check out our extensive review.
How do you get hold of Cyberlink PowerDirector 9 Ultra64 for the amazing price of just $29.95? First, note that this special offer is available from tomorrow, Thursday March 22, for just 24 hours only.
Head over to the DownloadCrew Giveaway site and order your copy, saving 70 percent on the MRSP. This special deal will expire no later than 23.59 CET (6.59pm, EDT), Thursday March 22.