Don't cry for me, Steve Ballmer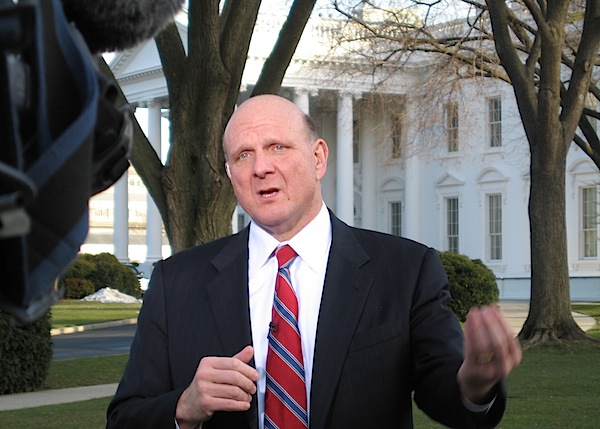 But I'll shed a tear for you and remember the good times we had together.
That's because IDC asserts, despite exciting Windows 8's coming launch, that the PC era will be over by 2016. Gartner uses a different metric to arrive at 2014. But whatever the measure, the Windows era is over, too, as (gulp) Android becomes the most widely shipped operating system on the planet. I guess you were right to obsess about Google after all. Cripes! As long ago as 2003, wasn't it? Who could have imagined that it would really come to this? You weren't being paranoid at all.
There has been talk for some time now about the post-PC era, which I call the cloud-connected device era. The rascals at IDC have similar thinking, creating the "smart connected devices" segment, which includes PCs, media tablets and smartphones. IDC predicts that x86 Windows PC share will drop from 35.9 percent last year to 25.1 percent in 2016. That's behind Android, which share goes from 29.4 percent to 31.1 percent -- not much of a gain if you really think about it. But the point, of course, is Android's ascension over Windows.
You know, perhaps hope isn't lost, Steve. Maybe we can have our Windows somewhere else, because I don't see that IDC has reckoned Windows on ARM. The analysts refer to Windows on x86 and Android on ARM. But, hey, aren't you prepping a slanky Windows 8 version for ARM, too? I hear rumors about Windows Phone 8 sharing same kernel. Now that would be something to get excited about.
"We are in the multi-device age, and we believe the number of people who use multiple devices will only continue to increase", Bob O`Donnell, IDC vice president, says. "The trick, moving forward, will be to integrate all these devices into a unified whole through use of personal cloud-type applications and services. That's the real challenge of what we have often called the 'PC Plus' era".
I'm Ready to Fly
Now, Steve, I heard you talk during Consumer Electronics Show about bringing a unified user experience across devices. That's Metro and what it inherits from the Windows Phone UI. I'm really excited about the cloud stuff behind it. My Windows Live SkyDrive is primed and ready for seamless sync and storage.
You best hurry and connect together the cloud and Windows-powered devices (Xbox, too!). Gartner's rash prediction puts the cloud as "center of users' digital lives" by 2014, replacing the PC. Rather than be the hub, the personal computer will be among the devices connected to the new one.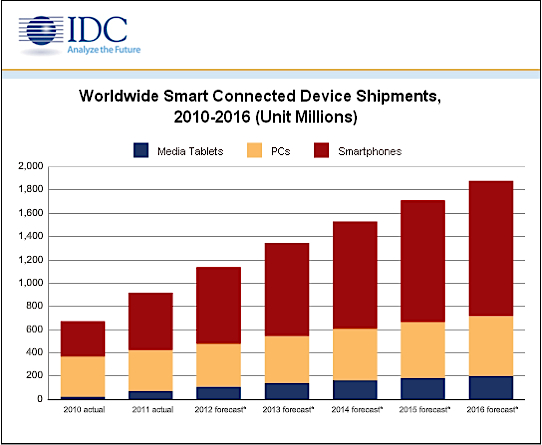 "Emerging cloud services will become the glue that connects the web of devices that users choose to access during the different aspects of their daily life", Steve Kleynhans, Gartner research vice president, says.
I believe him, Steve, and surely you do, too. Why else are you investing so much in the cloud, and why is its role so paramount to Windows 8 and Phone 7.5?
Google Gripes
I got to tell you that Google cloud sync pulls users into that "evil", competing ecosystem. comScore points out how much in February report "2012 Mobile Future in Focus". Looking at the US smartphone market:
Google-owned apps led across both iPhones and Android devices in terms of total unique active users. For iPhone users, YouTube ranked as the top app by unique visitors, followed by Google Maps, Facebook, Yahoo! Weather and Pandora Radio. Analysis of the Android market found that Google Search led as the top app, followed by Gmail, Google Maps, Facebook and Google News & Weather.
Google product and services integration is especially tight on Android 4.0, as I've seen from using Galaxy Nexus. Say, why is it I don't have a Windows Phone to use? Must I play Smoked by Windows Phone and win to get one?
Of course, Google just gives it all away for free, and that's good news for you. Android's share may rise above Windows, but not its appeal to developers.
"Android's growth is tied directly to the propagation of lower-priced devices," Tom Mainelli, IDC research director, says. "So, while we expect dozens of hardware vendors to own some share in the Android market, many will find profitability difficult to sustain". Same goes for developers he adds, then Mainelli ruins it all by emphasizing "we expect a large percentage of application developers to continue to focus their efforts on iOS". Oh yeah? What about Windows?
Steve, you really need to set these analysts straight. They act as if Windows is dead and buried already. I haven't given up on Windows yet -- version 8 is great -- but it's hard to keep the faith some days.