Toshiba unveils the biggest Android tablet yet, Excite 13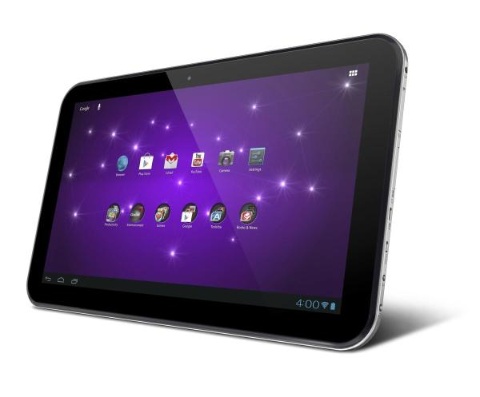 Toshiba's first Android tablets, called "Thrive," were a bit thicker and boxier than their competitors; but at the Consumer Electronics Show 2012, the company revealed it had slimmed down its second generation considerably with the 10" Excite tablet.
Tuesday, Toshiba unveiled a new member of the Excite family that proves the company still has size in mind with its Android Tablets. The new Excite 13 has the largest LED touchscreen of any Android tablet yet.
The Excite 13 tablet, as the name suggests, has a 13-inch (1600 x 900) screen, and manages to be only 0.4 inches in thickness and weigh 2.2 pounds. It is powered by Nvidia's Tegra 3 mobile processor platform with GeForce graphics and 1GB of RAM, and it includes a micro USB port, a micro HDMI port and a full-sized SD card slot. Some other unique aspects of the tablet, beyond its size, include its four-speaker sound system, and its support for ten simultaneous touch points.
"One size does not fit all, so we are carefully considering how and where people are using tablets and designing form factors to best suit various needs," said Carl Pinto, vice president of product development in Toshiba's digital products division.
The Excite 13 tablet will be available at the beginning of June 2012, and carries a suggested retail price of $649.99 for the 32GB model and $749.99 for the 64GB model.