Comodo Internet Security Premium 2013 Beta is touch friendly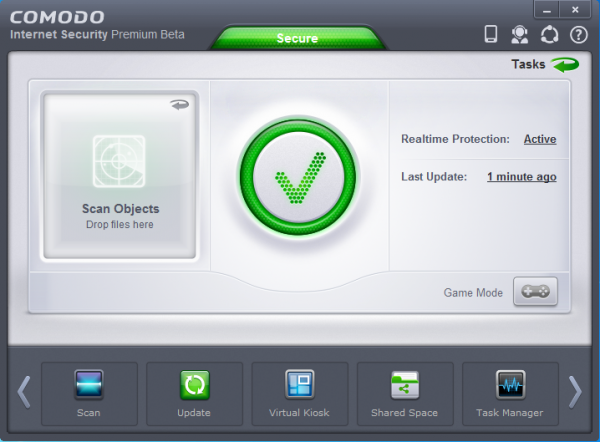 Comodo Group has announced the first public beta of Internet Security Premium 2013, an early look at their next generation of products. And the first change you're sure to notice is the bright, colouful and touch-friendly interface, which has been completely redesigned to make sure that even novice users can navigate the package without feeling intimidated.
In general it works well, too, with core features like Scan or Update available directly from the main display, while more complex functionality is kept at arm's length (mostly behind the "Tasks" button, so start there if you can't find something). Elsewhere, greatly improved and more reliable sandboxing has delivered the Virtual Kiosk. Essentially this works as a sandboxed desktop with its own apps, ready to help you securely access all kinds of popular websites and services (Google Maps, YouTube, EverNote, Hotmail, Picasa, TweetDesk and more).
And if you know what you're doing then it's now even possible to enable automatic virtualisation for unknown applications, although this requires a little setup, first. (Go to HKEY_LOCAL_MACHINE\SYSTEM\software\Comodo\Firewall Pro; create a DWORD value called "EnableDefaultVirtualization"; set it to 1; then use the Advanced Settings Editor to select "Fully Virtualized" as your auto-sandboxing option.)
The Suite now also includes more of Comodo's other security tools, which seems to make sense. So as well as providing GeekBuddy for remote support, and Dragon for secure browsing, the whitelisting and system monitoring technology behind Comodo's Cleaning Essentials and KillSwitch are now also available to help detect and block more malware.
But despite all the extras, Comodo claim this is the fastest and most lightweight product they've ever released. It's too early to deliver a verdict on that -- and benchmarking betas is a dubious business, anyway -- but while initial scans seem to take a while, we've already noticed that subsequent system checks are much, much faster.
It's not all good news, of course. Like all betas, this one contains plenty of bugs, and we've already been forced to reboot a couple of times after a suite module failed for no apparent reason.
If you're a Comodo fan, though, there's a considerable amount to explore in the Internet Security Premium 2013 Beta (the Virtual Kiosk is a whole new world all on its own). Just don't install it anywhere that isn't fully backed up.