Maryland cops roll out app to stop bullying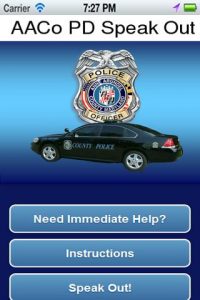 Ever since a 2009 article in the Archives of General Psychiatry declared bullying may make kids psychotic, the topic of bullying online and in schools has become one of increasing interest among policymakers and parents.
Today, the Anne Arundel County Police Department in Maryland has rolled out an Android application called AACoPD Speak Out that lets county students and their families communicate directly with the Anne Arundel County Police School Resource Unit specifically about instances of bullying.
It is the first app of its sort in the state of Maryland, and so far it is being reported as the first app of this sort in the nation.
The application is described in its documentation in the following way:
This is a place where students and families can anonymously provide information to the Anne Arundel County Police Department School Resource Unit about concerns in a school, community or home. We do not want to make arrests if they can be avoided. We would much rather prevent crimes, help resolve conflicts and get people the help they need.
It is not for emergency communications, but rather for detailing issues in Anne Arundel County schools on Monday through Friday during regular business hours. It asks users to include "As much information as you can, including the names of people involved, addresses, schools attended, descriptions and complete details of the problem, question or concern."
Anne Arundel County is a mostly white, mostly middle class county in the state of Maryland located directly south of Baltimore and east of Washington DC, along the Chesapeake Bay. The application is available in Google Play now, and the iPhone application has not yet been approved for listing in the iTunes App Store.
My review of the app:
Rating: 1 Star
Title: Does not work as promised.
Comment: Installed app and I continued being bullied. Tried updating Android, but kids were still being mean. Told cops everything about bullies but it unlocked no achievements. Uninstalling.