Microsoft releases Windows Phone app, but you probably can't use it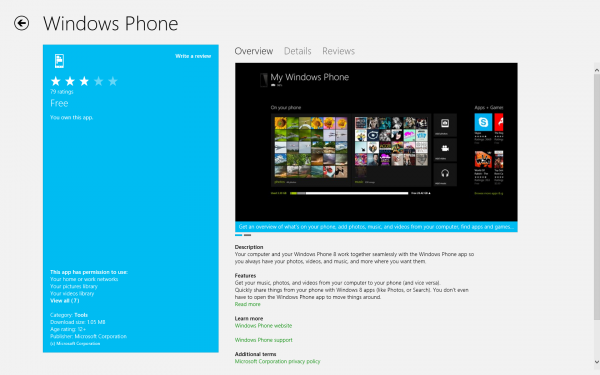 Hours ahead of Windows Phone 8's big launch, Microsoft released an app to the Windows Store.
So what does it actually do? Like the name suggests Windows Phone is designed to sync music, photos, videos as well as other types of files between computers running Windows 8 and Windows Phone 8 smartphones. Through the app users can also access programs available on the Windows Phone Store. But there's a problem, which has been signaled by a great number of users.
The name of the app, Windows Phone, is rather misguiding. Those that installed the app complain that it's exclusive to Windows Phone 8 devices, such as the Lumia 920 or HTC Windows Phone 8x, and it is not (yet) compatible with previous versions of the smartphone operating system from Redmond.
That excludes smartphones like the Lumia 900, Lumia 800, Samsung Focus S, HTC Titan II and so on, which actually represent the entire Windows Phone market at the moment.