Get Modern UI look without Windows 8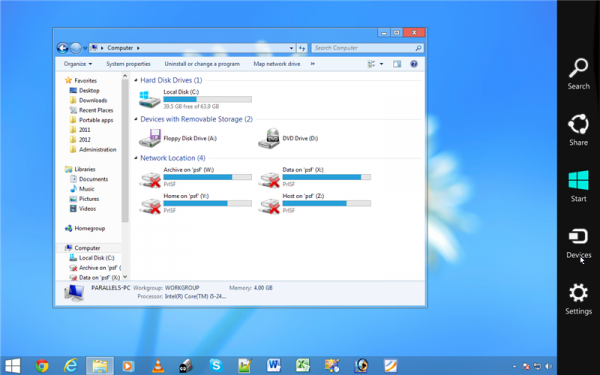 The Windows 8 UX Pack 6.5, which emulates large portions of the Windows 8 classic desktop, including non-Aero effects and the new Charms bar, in Windows 7, gains two minor changes in this release. First, the default system drive icon has now been set to the same as that in Windows 8, while the other makes the Charms Bar Immersive UI the default setting.
Fixes include resolving issues with logon screens not changing properly on OEM-bundled machines, plus permission problems with third-party applications. Version 6.5 also ensures the Start orb shows up correctly after a system restart.
The Windows 8 Transformation Pack 6.5 includes additional elements to ensure the Metro-style desktop can be emulated easily on earlier versions of Windows, including XP, Vista and Server editions. Version 6.5 includes the same changes as found in the UX Pack, plus resolves an issue with the Windows version checking that would have allowed the pack to be installed on Windows 8 machines. It also removes Aero Frame UI from the default configuration screen due to stability issues on some machines and updates the Metro Inspirat theme for XP users to extend the ModernUI changes to the Start menu and taskbar.
While neither pack does much more than emulate the new ModernUI-themed classic desktop in Windows 8, both are relatively simple to install and remove, and provide wallpapers, logon screens, the Charms bar and other elements of the new interface for users to enjoy.
Windows 8 UX Pack 6.5 and Windows 8 Transformation Pack 6.5 are both freeware downloads for non-Windows 8 PCs.