You can have iPhone 5, I'll take Google Nexus 4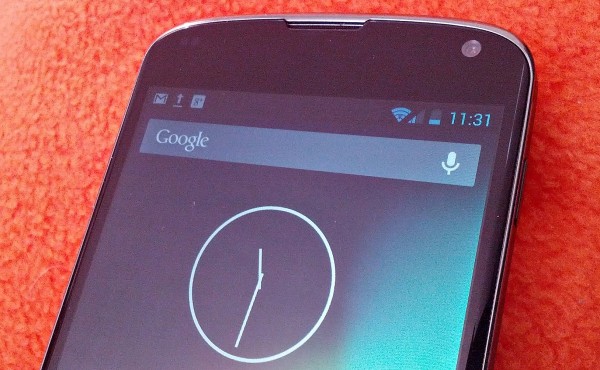 I can see only one good reason to choose iPhone 5 over Nexus 4: The LG-manufactured mobile is sold out, and you can't wait. For the patient, Google's fourth-generation stock Android delivers rewarding experience. The new Nexus is the smartphone to buy this holiday season -- if you can find one.
Two reasons stand in iPhone 5's favor, neither is good, just necessary for some people: Your carrier -- for example, Sprint and Verizon in the United States -- isn't supported (Nexus 4 is GSM/HSPA+), or you bought heap loads of apps from Apple and don't want to lose your investment. I feel your pain, but offer no pity. Nexus 4 is exceptional.
That's no easy statement for me to make. I approached the Google mobile with extreme trepidation. Brand perception matters when choosing a device so personal as a smartphone. LG ranks rather lowly in my mind. Based on my observations of phones available from AT&T, the South Korean company is second-rate manufacturer -- not my first choice at all. So I'm so surprised to be so delighted by Nexus 4.
Something else: Apple's handset is a major redesign, while Nexus 4 is an evolutionary upgrade from its predecessor, which is another reason the Google phone's superiority surprises. I reviewed iPhone 5 in September, and the one for Nexus 4 is in process. So this is just my first treatise on the Android.
Basic Benefits
Both devices are handsome and feel good to hold. iPhone 5 is considerably smaller and warmer to touch, thanks to Apple getting rid of the glass back, which the LG packs. If white is your thing, Apple offers the color but not Google. Black iPhone 5 is classically so and immediately evokes sense of being spy craft. By comparison, Nexus 4 isn't that distinguishable from the mass of smartphones. iPhone 5 is handsomer then, but that's no knock on the Google phone, which appearance greatly improves over Galaxy Nexus.
Battery life, display and performance are among Nexus 4's winning attributes over iPhone 5. The 8-megapixel cameras produce comparable results, but Android 4.2 provides considerably more control compared to iOS 6. Other major differences come to operating system and contextual cloud computing services.
Battery life. Apparently, size really does matter. The Google phone packs considerably larger battery, and, hot damn, does it show. I received Nexus 4 on November 21 and charged up late evening. When I went to bed Wednesday night, the phone had 94 percent charge. As I write late Saturday afternoon, it is 11 percent. Time between charges: 64 hours, 30 minutes. Granted, I've spent more time on Nexus 10 tablet over the holiday. Only: 379MB data usage and 31 minutes phone calls. Even as measure of idle time, battery life exceeds iPhone 5. I do expect mileage to decrease once widgets are placed on the homescreen; I'll get round to it.
Camera. Both phones provide 8MP rear-facing cameras that produce sharp, pleasing photos. Focus is fast and shutters nearly instantaneous. However, iPhone 5's shooter, like so much of other built-in features, is one-size fits all. There are just a couple options -- high dynamic range and grid -- and little else. Nexus 4 provides much more, including scene settings, exposure compensation and white balance adjustments. iPhone 5 is great for point and click, which is probably how most people will use it. But the Android offers more control. Android 4.2 features a 360-degree panorama mode, which markets well but is more gimmick. Call me when there is fisheye mode -- more people would use that.
Display. Sharp produces iPhone 5's screen, and it's quite good. Nexus 4's display is better. For starters, again, size matters: 4.7 inches provides more real estate than 4 inches, and resolution is higher. On first glance, LG's screen has a muted quality, particularly compared to any that Samsung produces; colors aren't as saturated, by comparison. Being no expert in screen science, I can express just this: For what the LG gives up in saturation it gains in clarity, which is amazing. The screen isn't overly reflective and is easily viewed in direct sunlight. Perhaps if equal size, iPhone 5 would edge out Nexus 4. But the total package is all the Android's advantage.
Performance. Anyone moving up from iPhone 4 or older should see vast performance improvements. iPhone 5 is mighty responsive, but Nexus 4 is smoother and zippier overall. The handset benefits from quad-core processor (compared to dual for the Apple) and twice the memory (2GB). Then there are operating system improvements. Thanks to Google's Project Butter, the days of stuttering Android are gone. On this phone, Jelly Bean is mouth popping. Scrumdelicious. Both phones are speedy, but performance matters more on Nexus 4 because the handset does so much more. There is real customization and the ability to run widgets -- not just from the various desktops but startup homescreen.
Side-by-Side
Before moving on to the broader contextual user experience, where Apple's efforts simply collapse, there is the issue of money and value you get for it. Let's start with specs:
Nexus 4: 4.7-inch display, 1280 x 768 pixel resolution, 320 pixels per inch; Qualcomm Snapdragon S4 Pro processor; 2GB RAM; 8GB or 16GB storage (depending on model); 8-megapixel rear-facing and 1.3MP front-facing cameras; GSM/EDGE/GPRS (850, 900, 1800, 1900 MHz), 3G (850, 900, 1700, 1900, 2100 MHz), HSPA+ 21; WiFi N; wireless charging; Bluetooth; NFC; SlimPort HDMI; accelerometer; ambient-light sensor; barometer; compass; GPS; Gyroscope; microphone; 2100 mAh battery; unlocked; Android 4.2. Measures 133.9 x 68.7 x 9.1 mm and weighs 139 grams.
iPhone 5: 4-inch display, 1136 x 640 resolution, 326 ppi; Apple A6 dual-core processor; 1GB RAM; 16GB, 32GB or 64GB storage (depending on model); 8MP rear-facing and 1.2MP front-facing cameras; UMTS/HSDPA/HSUPA (850, 900, 1900, 2100 MHz), GSM/EDGE (850, 900, 1800, 1900 MHz), LTE (bands vary by carrier model and region); accelerometer; ambient-light sensor; gyroscope; GPS; proximity sensor; digital compass; Bluetooth; Wi-Fi N; 1440 mAh battery; carrier locked; iOS 6. Measures 123.8 x 58.6 x 7.6 mm and weighs 112 grams.
Nexus 4 packs a LTE chip but lacks the hardware necessary to truly work, and it's Band 4, which no major US carrier broadly supports. LTE must be enabled by some tomfoolery; it's disabled out of the box. By comparison, iPhone 5 offers HSPA+ and LTE that works. If LTE is a must-have feature, then Nexus 4 isn't for you.
The phone also is available from three of the four major US carriers -- AT&T, Sprint and Verizon. However, only AT&T offers simultaneous talk and web over LTE. So that's an advantage for iPhone 5 -- in regions with broad LTE networks.
Nexus 4 supports GSM/HSPA+, which means AT&T, T-Mobile and some regional carriers in the United States. CDMA network users (that's you if on Sprint or Verizon) are out of luck. T-Mobile's dual-band HSPA+ network, where deployed, delivers theoretical speeds up to 42Mbps, which should exceed rival carriers' LTE throughput for practical usage.
iPhone 5 comes in three models: 16GB ($199); 32GB ($299); and 64GB ($399), with two-year contractual commitment, which includes opting for monthly extra-cost data plan. Google sells two Nexus 4s direct: 8GB ($299) and 16GB ($349). While the initial outlay is more upfront, there is no back-end commitment. The phone is unlocked and contract-free, which makes it a great choice for pre-paid users.
T-Mobile offers 16GB Nexus 4 for $199 with two-year contract. There is no crapware, and the phone quickly updates to the newest Android version, just like the one Google sells. Whether purchased with or without contract commitment, Nexus 4 is clear choice for anyone on T-Mobile, which doesn't sell iPhone 5.
What Matters Most
Android 4.2 leaps ahead of iOS 6 in so many measurable ways, iPhone 5 can't compete for overall user experience.
Mobile devices are all about context. How we interact with them depends on context, whether you shift from parent role to work role sitting on the couch, to starting a movie on your phone and finishing at home on the big screen. Apple doesn't deliver enough contextual experience, being too control-oriented, seeking to create context where it often isn't. Consider the iOS 6 maps fiasco, where Apple takes away contextual utility people had with Google's product. Location is all about context -- what's important where you are, what you're doing in the moment.
By nearly every measure, Google exceeds Apple over truly, meaningful contextual computing experience, whether that's with the utility its cloud services offer or that provided by applications developers. That they can offer widgets, for example, means more apps that are contextually relevant. As I expressed two weeks ago, contextual cloud computing replaces the PC era.
Apple showed promise with Siri, but the service receives well-deserved bad reputation for not living up to promise of giving people the information they want where and when they need it. Google Now smokes Siri and leaps Nexus 4 ahead of iPhone 5. 
There's a good reason why Popular Science calls Google Now "innovation of the year". The service represents a watershed development. Google successfully presents its depth of search and contextual services in a truly meaningful manner -- one that changes how people interact with mobile devices. You don't have to search. The feature tracks activities and location, anticipating what information the user needs before asking and presenting it contextually.
I would recommend Nexus 4 over iPhone 5 almost for no other reason than Google Now. Maps is another. Chrome. Seamless synchronization that surpasses iCloud. Widgets. And more. Nexus 4 running Android 4.2 puts the world in my pocket with context that matter to me. By every measure that matters, the Google phone trumps the fruity device.
You can have iPhone 5, I'll take Nexus 4!
Photo Credit: Joe Wilcox