BBC updates its iPlayer app -- background streaming via AirPlay now enabled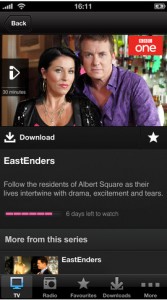 The BBC's iPlayer app is available for both iOS and Android, but owners of Apple devices definitely get the better deal with additional features, such as the ability to download shows to their iPhones or iPads for offline viewing.
The latest update from the BBC widens the gap between the app siblings further by introducing improved AirPlay support. Owners of iOS devices who also have Apple TV will now be able to beam a show from the app to the big screen, and then background iPlayer, and use their phone or tablet for something else while the show continues to play.

In addition, the new version of the app fixes various minor problems and glitches, improves playback quality, and ensures downloads are more reliable.
You can grab the latest version of iPlayer from the App Store now.