Google takes a Field Trip to visit iOS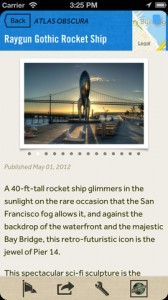 Apple fans can breath a sigh of relief -- not only do they now have Google Maps again, but today they gained another Google travel app, Field Trip. The app quietly rolled to the iTunes Store today with no fanfare, nor even an announcement from the search giant, bringing with it all of the features that many Android users have grown to love.
Field Trip works in the background and is unseen the vast majority of the time. However, when the user is out and about, it can suddenly spring into action when a place of interest is detected nearby. These can include local history as well as the latest and best places to shop, eat and even have fun.
Google pulls the data from TimeOut, Thrillist, Food Network, Zagat, Eater, Sunset, Cool Hunting, WeHeart, Inhabitat, Remodelista, Atlas Obscura, Dezeen and Daily Secret, Songkick and Flavorpill. More services are being added regularly.
The new iOS version is available in multiple languages -- English, Arabic, Catalan, Chinese, Croatian, Czech, Danish, Dutch, Finnish, French, German, Greek, Hebrew, Hungarian, Indonesian, Italian, Japanese, Korean, Malay, Norwegian, Polish, Portuguese, Romanian, Russian, Slovak, Spanish, Swedish, Thai, Turkish, Ukrainian and Vietnamese.
Field Trip for iOS is free and compatible with the iPhone 3GS and newer devices and will also work with the iPod touch and iPad as well. Just a word of caution -- if you are traveling to somewhere historical (like Williamsburg, Virginia), the app can become quite active, to the point of annoying -- but it is a good kind of annoying.