Android 4.2 Jelly Bean comes to ASUS Transformer Pad Infinity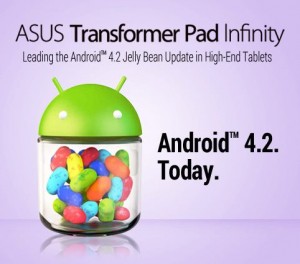 One month after the company updated the Transformer Pad TF300 to Android 4.2, ASUS has announced that the Transformer Pad Infinity is also poised to receive the second Jelly Bean iteration.
On its Facebook page, ASUS posted a picture which lists the Android 4.2 update as coming to the Infinity, with the roll-out started yesterday. So what do you get from the upgrade?
The most important feature that Android 4.2 introduces is the ability to use multiple user accounts, which is currently exclusive to the tablet version of the mobile operating system.
Other noteworthy features include lockscreen widgets, improved security, the ability to stream content, swipe input using the built-in keyboard and Daydream, among others.