Build Retina-compatible websites with Xara Web Designer 9 Premium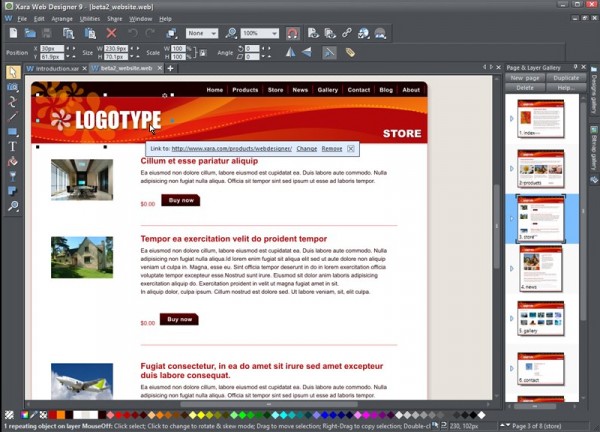 Established UK developer Xara has released Xara Web Designer 9 and Xara Web Designer Premium 9, the latest builds of its popular web design package for Windows. Version 9 automatically supports the creation of HiDPi/Retina-compatible websites (Premium only), updates support for HTML5 and CSS3 standards and adds a dedicated 64-bit build for 64-bit systems with more than 4GB RAM installed.
Improved HTML5 and CSS3 compatibility has a number of benefits for Xara developers, most notably more efficient and faster loading websites. This is due to the fact many page elements that were previously converted into images can now be rendered natively in HTML5. These include rectangles -- simple, rounded and skewed, box shadows, text with drop shadows and various page backgrounds.
Another side-benefit of this improvement is that HTML5-rendered elements are fully scalable and resolution independent, making them automatically compatible with higher-resolution Retina and HiDPi displays. Other page elements not natively supported, such as feathered objects, are still exported as images.
Web Designer 9 Premium also includes other tools to improve compatibility with Retina/HiDPi screens, such as automatically creating high-res photos and web graphics for "smart" web pages that display the correct resolution according to the browser being used.
Xara Web Designer 9 also includes improved font embedding, with the Premium build supporting the use of Google fonts, a growing free and open-source collection numbering over 600, for websites.
Also added to version 9 are improved re-coloring of clipart and vector-based artwork, extended support for automatically positioning and resizing objects when changes are made, easier Web presentation creation and drag-and-drop Navbar replacement support.
In addition, 20 new website themes and a number of new widgets have also been added to Web Designer 9.
Xara Web Designer 9.0.0, Xara Web Designer Premium 9.0.0 and Xara Web Designer Premium 9.0.0 (64-bit) are all available as trial downloads for PCs running Windows XP or later. Web Designer 9 is a cut-down entry level version aimed at beginners and retails for $49.99; Web Designer Premium 9 has a MSRP of $89.99 and is aimed at experienced and professional web developers looking for additional web authoring and publishing tools, as well as more sophisticated graphics tools and additional galleries.